Congratulations Mason!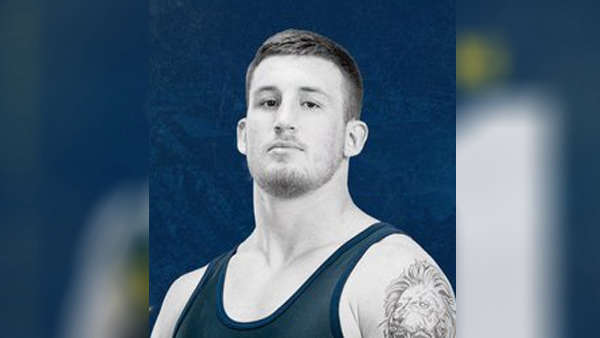 (Tulsa, Ok.) - Lawrenceburg native Mason Parris is a national champion.
The University of Michigan fifth-year senior captured the NCAA Heavyweight Championship on Saturday in Tulsa, Oklahoma.
Parris capped off an undefeated season with a 5-1 decision over Penn State's Greg Kerkvliet. The win was Parris' second over Kerkvliet this month. He previously defeated the Nittany Lion star in the Big Ten Championship Final.
"I've been dreaming about it for a long time and to finally get it done, the feeling is real. I feel great out there. Greg is a great competitor, a lot of respective off to him but it was my day and I went out there and had fun and did my thing," Parris said in a post match interview with ESPN.
He finished his college career with a 33-0 record this season. That included 17 wins against ranked opponents and 10 wins against eight heavyweight All-Americans.
Parris is an All-American himself, earning that honor four of his five seasons at Michigan.
His final collegiate record stands at 124-18.
In high school, Parris went 206-1 and captured three IHSAA State Championships.
ICYMI: Mason Parris capped a perfect 33-0 season, beat PSU's Kerkvliet, 5-1, to capture NCAA heavyweight title last night in Tulsa.

RECAP: https://t.co/1CdsqKzITi pic.twitter.com/v8e8TYysXT

— Michigan Wrestling (@umichwrestling) March 19, 2023
The DI Wrestling Championship has come to a close and 10 champions have been crowned. Look back on a night that had us all on the edge of our seats!#NCAAWrestling pic.twitter.com/u8VmEHgqD3

— NCAA Wrestling (@NCAAWrestling) March 20, 2023