Eagle Country 99.3 wishes Jacob Rohrig a speedy recovery!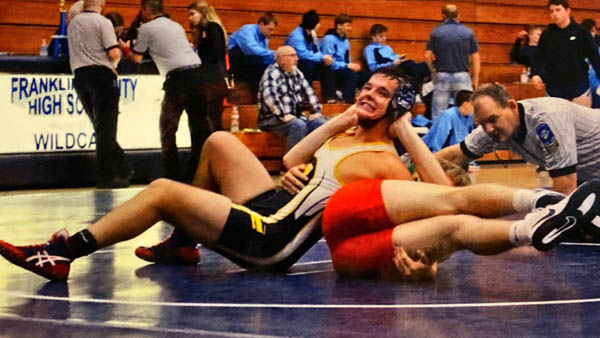 (Milan, Ind.) - Jacob Rohrig, a Milan High School graduate, pursued competitive wrestling through high school and continued last year as a freshman at the University of Indianapolis. He worked hard and his team did well. And as with many young athletes, he played with pain even when his knee would periodically "pop out" of alignment. "I could always pop it right back," said Rohrig. "I just did that each time it happened, so I could keep competing." While certainly not ideal, it was a short-term solution that worked. Until it didn't.
Earlier this year, the knee popped out and would not go back. It didn't hurt all the time, but there was pain and he could not fully straighten his leg, making it difficult to sleep. His older brother, John, also a college wrestler (for Norwich University in Vermont), had recently experienced similar symptoms. His diagnosis required surgery to repair a meniscus tear. Dr. Robert Rolf at Beacon Orthopaedics in Batesville had diagnosed and performed John's surgery. So the family felt comfortable seeking his opinion for Jacob.
The meniscus is a structure inside the knee that acts as a sort of shock absorber. As John had before, many patients describe the catching or popping sensation when walking, squatting, or kneeling. So, not surprisingly to the family, Dr. Rolf diagnosed a torn meniscus and recommended immediate surgery.
What is surprising is the fact that Jacob's entire "work up" – including an MRI -- was done remotely utilizing Beacon's Telehealth Video Visits. So even during the pandemic quarantine and Beacon Orthopaedics' partial shut-down, Dr. Rolf was ready to operate on Jacob's knee on April 15th.
Since then, as with so many sports and collegiate activities, the 2020 nationals for college wrestling were cancelled. Classes were shifted to distance-learning. Jacob stayed home in SE Indiana to recover and go to class electronically. His surgery was urgent, and Dr. Rolf was a trusted and experienced surgeon ready and available to step in as needed. "We knew each other," said Dr. Rolf. "And that allowed a comfort level for Jacob and his family that many doctors only earn after they exit the operating room." The surgery was a success. And he has completed his first year of college (the last part while recuperating at home in Milan) and is now finishing up physical therapy with the professionals at Beacon. He has begun taking a few summer online classes too.
The Rohrig brothers are both Eagle Scouts. They know about competition, hard work and dedication. They know about setting goals and achieving them. And now they both know about overcoming the struggles of an injury – including surgery to repair it. The great news is that both young men expect to compete for their two schools, returning to the mat next season.
If you or someone you know is dealing with joints that sometimes catch or "pop out," don't dismiss that and put off being seen by a professional. The Batesville Beacon Orthopaedics location now joins the other eight locations that are seeing patients. And to ensure patient and staff health, Beacon is offering Telehealth Video Visits and still using all approved safety protocols, including temperature checks, masks, hand sanitizing and patients waiting in their cars until it is time for their individual appointments.
Providing a safe environment to diagnose and recommend next steps for any injury is always the right thing to do. If you think you may have a meniscus injury, please visit www.beaconortho.com or call 513-354-3700 to schedule an appointment. Beacon Orthopaedics will create a care plan just for you, to get you back to your normal activities without knee pain.