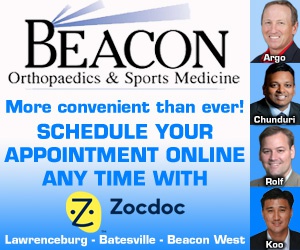 Batesville baseball and Jac-Cen-Del each started the season 2-0 with doubleheader sweeps Saturday. Find local varsity sports scores with one click, presented by Beacon Orthopaedics & Sports Medicine.
Please report missing scores to 888-537-9724 or email sports -at- eaglecountryonline.com.
SATURDAY, MARCH 31
BASEBALL
Conner 16, Lawrenceburg 8 – Conner's Jarrod Rabe went 3-for-5 with 5 RBI to give the Cougars the win. Lawrenceburg was led by Will Halbig, who was 3-for-3 with 4 RBI and 3 runs scored.
Floyd Central 9, South Dearborn 2 – Tristan Rinehart and Jake Black each had a hit and an RBI for SD.
Floyd Central 11, South Dearborn 1
Batesville 11, Rising Sun 2 – Quinn Werner and Sam Voegele each rapped in three runs. Joe Bohman pitched 6 innings to get the win.
Batesville 8, Rising Sun 4 – Batesville's Quinn Werner had two hits and 3 RBI. Pitcher Sam Voegele picked up the win as he struck out 4 over 5 innings of work. Caleb Raab earned the save while also going 3-for-4 at the plate.
Baseball Opening Day

Somehow found a way to get field ready!@BulldogsBville at Rising Sun for baseball DH.#GoShiners @orvcsports pic.twitter.com/5LO3AYQuZC

— Rising Sun Shiners (@rsshiners) March 31, 2018
SOFTBALL
East Central 7, Columbus North 4 – EC started the season with a win.
Jennings County 8, Milan 1 – Milan's Taryn Cline was 1-for-3 with an RBI.
Jennings County 10, Milan 2 – Courtney Bruns and Erin Widener each had an RBI for Milan.
Jac-Cen-Del 1, Clarksville 0 – Jac-Cen-Del's Morgen Carroll pitched a perfect game.
Jac-Cen-Del 14, Providence 10 – Karlee Wolfe, Nadya Hildebrand, and Regan Carroll each had 2 RBI for JCD.