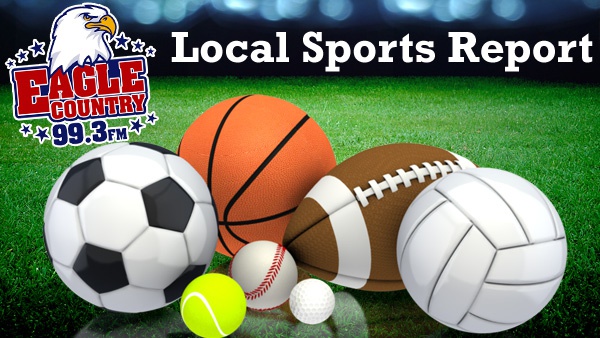 It was a fun weekend of high school football with the War of I-74 on Friday and the Southeastern Showdown at Lucas Oil Stadium on Saturday.
Please report missing scores and statistics to 888-537-9724 or email sports -at- eaglecountryonline.com.
FRIDAY, SEPTEMBER 6
FOOTBALL
East Central 10, Harrison (Ohio) 7 – Eagle Country 99.3 Feature Game – This edition of the War of I-74 was an instant classic. Harrison had a chance to break a 7-7 tie with a field goal attempt late in the 4th quarter, but EC defender Devon Donawerth made his second kick block of the game. In overtime, EC's Sophie Browndyke made a chip shot field goal. On their OT possession, Harrison tried to run it in on a 4th and 1, but EC's defense did not allow them to get across the goal line, sealing the victory. Donawerth also had a touchdown run in the 4th quarter and an interception. Trojans running back Jake Fike had 26 rushes for 100 yards. Harrison QB Connor Kinnett was 17/35 for 202 yards, a rushing touchdown, and an interception. WR Levi Tidwell made 10 catches for 120 yards. Harrison outgained EC in total offense, 283 yards to 176.
What a great game! 10-7 in overtime! @ECstudentsec rushes the field! pic.twitter.com/orAsQFREUc

— Andrew Jackson (@SDCS_SUPER) September 7, 2019
Switzerland County 40, Trimble County 22 – Switzerland County improves to 3-0.
Oldenburg Academy 26, Edinburgh 12 – OA's Caleb Lehman had 10 carries for 50 yards and 2 TDs. Dominic McFee was effective running the ball with 16 carries for 145 yards and a score. Abe Peetz added 13 rushes for 47 yards and a touchdown.
GIRLS SOCCER
Hoosier Cup Tournament
South Dearborn 4, Vincennes Rivet 1 - Erin Huber scores a hat trick and Chayne Conly adds another to cruise to a 4-1 win.
VOLLEYBALL
Waldron 3, Rising Sun 0 – 25-18, 25-11, 25-13
SATURDAY, SEPTEMBER 7
FOOTBALL
South Dearborn 35, Batesville 7 – Eagle Country 99.3 Feature Game – In the third game of the Southeastern Showdown at Lucas Oil Stadium, South Dearborn QB Adam Dixon had four touchdown passes, three of them to tight end Jake Black. Dixon ended the game with 306 passing yards. Black ended with 81 yards receiving. Reese Willoughby added three catches for 95 yards and a score. Dalton Guthrie rushed for 101 yards and a score. Batesville running back Austin Pohlman had 23 carries for 112 yards and a TD. The Knights overcame three turnovers.
Lawrenceburg 42, Milan 14 - Eagle Country 99.3 Feature Game -
Scenes from pre-game at Lucas Oil. Great fan support in Indy. #weRmilan pic.twitter.com/f9FqSRkG1T

— Milan Athletics (@MilanAthletics) September 8, 2019
Franklin County 53, Rushville 20 – Franklin County's Hunter Tschaenn ran for six touchdowns as Franklin County romped in the second game of the Southeastern Showdown at Lucas Oil Stadium.
Hunter Tschaenn's 6th Rushing TD for the game. FC 46 RCHS 20 in the 4th quarter. pic.twitter.com/ESDS9rnFRE

— Franklin County HS (@FCHSWildcats) September 7, 2019
BOYS SOCCER
Lawrenceburg 1, Rushville 0
Rising Sun 3, Switzerland County 0 – Zac Brokaw kicked two in for the Shiners. Landon Cole had a goal and an assist. Goalkeeper Jordan Parsons made five saves.
CROSS COUNTRY
East Central Invitational
Eleven teams ran at the East Central Cross Country Invitational on Saturday, with the Batesville Bulldogs boys and girls teams taking first place in both sexes. Batesville's Ava Henson won the girls race in 20:42, followed closely by second place teammate Madison Rahschulte at 20:48 and aria Lopez in third at 21:08. Mount Notre Dame girls were second as a team and South Dearborn was third, led by Rachel Rohe in seventh at 21:49. In the boys race, Waldron's Jacob James was the champ at 16:44. Batesville's Adam Moster was second at 12:46 and Joshua Myers was third at 16:49. Hagerstown was second in the team standings, East Central third, and Jac-Cen-Del fourth. Find full meet results at https://www.stuartroadracing.com/crosscountry.html.
GIRLS GOLF
ORVC Championship
Southwestern shoots a 362 to win its 3rd-straight ORVC girls golf title. Rebels' Belle Crawford medalist with an 84, which included a hole in one on hole 4. Switzerland County was 2nd with the only other complete team.
GIRLS SOCCER
Hoosier Cup Tournament
South Dearborn 4, Richmond 0 - Erin Huber, Abby Hensley, Katie Cutter and Chayne Conly each had a goal for SD.
East Central 1, Talawanda (Ohio) 0 – Hailey Fritz scored the game's only goal off an assist from Julia Tiemann. EC keepers Mary Brewington and Ashlyn Blankenship each had a save.
Madison 0, Switzerland County 0 – draw
VOLLEYBALL
East Central 3, Madison 0