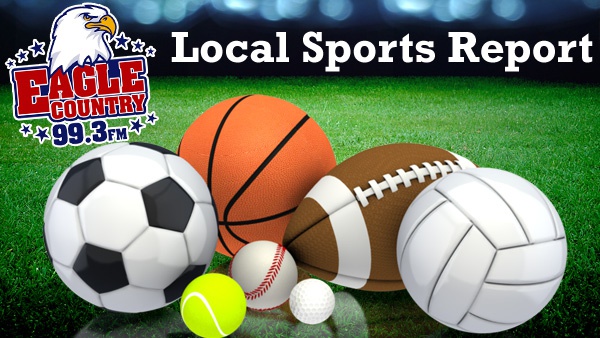 Girls golf postseason began Saturday.
Please report missing scores and statistics to 888-537-9724 or email sports -at- eaglecountryonline.com.
FRIDAY, SEPTEMBER 20
FOOTBALL
Lawrenceburg 41, Franklin County 7 – Eagle Country 99.3 Feature Game – Lawrenceburg's sophomore QB Garrett Yoon played great with 131 passing yards with two TDs and an interception, plus seven rushes for 74 yards. Adam Burd had 18 carries for 156 yards and two scores. Wideout Seth Lampert made six catches for 135 yards and two touchdowns. Defensively, the Tigers were led by Marshall Kinnard and Noah Rowlett with five tackles each, and Aiden Gilmour with an interception. Franklin County backup quarterback Brady Moorhead completed three passes for a touchdown and an interception. Wide receiver Bridger Bolos had five catches for 106 yards and a TD.
East Central 32, Batesville 0 – East Central's defense limited Batesville to only 80 total yards of offense all night. The Trojans made five QB sacks, including two by Kole Viel. Jake Fike had 13 rushes for 144 yards and three touchdowns. Quarterback Ryan Bond was 3/10 passing for 62 yards, including a 23-yard TD pass to Mac Studer. Sophie Browndyke made a 32-yard field goal for the Trojans.
Warming up to take on Batesville.
Go Trojans!
Beat Bulldogs!
⚫️🔴🏈🏈🏈🔴⚫️ pic.twitter.com/yZ9I2Y4JbV

— Andrew Jackson (@SDCS_SUPER) September 20, 2019
South Dearborn 42, Greensburg 31 – South Dearborn quarterback Adam Dixon had a big night with three rushing touchdowns and two passing touchdowns. Dalton Guthrie added another score on the ground for SD.
North Decatur 21, Milan 0 – Milan QB Parker Lewis had 89 passing yards, but the Chargers limited the Indians to just 27 rushing yards.
It's time for Football Friday Night! Go Indians! #weRmilan pic.twitter.com/aXyHrViecN

— Milan Athletics (@MilanAthletics) September 20, 2019
Oldenburg Academy 20, Switzerland County 14 – Oldenburg handed Switz their first loss of the season. OA's Rhett Martin was 3/5 for 51 passing yards with a TD and an INT. Dominic McFee had nine carries for 132 yards and two scores, plus a sack and four tackles on defense.
SATURDAY, SEPTEMBER 21
BOYS SOCCER
Plainfield 3, East Central 0
East Central 2, Bishop Chatard 0
Whiteland 2, Batesville 1 – Ian Powers scored Batesville's lone goal.
Oldenburg Academy 3, Franklin County 0 - OA goals were scored by Henry Kraus, Ben Kraus, and Race Carle.
Rising Sun 4, Southwestern 1 – Landon Cole made two goals and an assist for the Shiners. Brogan Radcliff and Kendall Montgomery each had a goal. RS keeper Jordan Parsons recorded seven saves.
CROSS COUNTRY
Fifteen teams competed at the South Dearborn Cross Country Invitational on Saturday. Jennings County won the boys team competition, followed by Ryle and Greensburg. The top finisher for the boys was Carter Leak of Jennings County in 16:07. For the girls, the team title went to Greensburg, followed by Ryle and Columbus East. Greensburg's Brenna Hanna crossed the finish line first at 18:54. Full meet results are available at https://www.stuartroadracing.com/crosscountry.html.
GIRLS GOLF
Lawrenceburg's Grace Schmidt posted a round of 97 Saturday at the IHSAA Girls Golf Sectional at Madison's Sunrise Golf Course on Saturday to earn advancement as an individual to the regional round. The team title at the sectional meet was a tie between Madison and Southwestern (Hanover) with 371 each. Madison's Keera Eder was the meet medalist with a score of 77.
Batesville was fourth as a team at the IHSAA Girls Golf Sectional at Greensburg Country Club on Saturday. The Bulldogs' Emma Weiler placed second with a score of 75. Batesville teammace Victoria Harpring also earned advancement to the regionals with a score of 92.
Lady Bulldogs only have a few holes to play at today's golf sectional at Greensburg. pic.twitter.com/idpMQfnP3M

— Batesville High School (@BulldogsBville) September 21, 2019
GIRLS SOCCER
East Central 8, Seymour 1 – Ema Hinton had a hat trick with three EC goals. Alexia McKrancy found the net twice. Also scoring for EC were Taylor Whitehead, Lauren deLong, and Mackenzie Vignale.
Lawrenceburg 6, Heritage Christian 1 – Lawrenceburg's Chloe Meyer had a big day with three goals. Also scoring for LHS were Molly Dunn, Ella McAndrew and Kalana Kent.
Batesville 7, Connersville 0 – Three goals were made by Batesville' Carlie Werner. Abbey Prickel had one goal. Lauren Gutzwiller and Bella Britch each netted a goal. Liz Heidlage made three assists.
Bishop Chatard 4, Oldenburg Academy 0
VOLLEYBALL
Lawrenceburg Tournament
Lawrenceburg 2, Hauser 0 – 25-23, 25-23
Lawrenceburg 2, Southwestern 0 – 25-15, 25-14
Lawrenceburg 2, Rising Sun 0 – 25-17, 25-12
Hauser 2, South Dearborn 0 – 25-10, 25-17
Rock Creek Academy 2, South Dearborn 0 – 25-14, 25-10
Rising Sun 2, Southwestern 0 – 25-18, 25-21
Rock Creek Academy 2, Rising Sun 0 – 25-15, 25-13
Batesville 2, Seymour 1 – 22-25, 25-13, 20-18
Rivertown Parke 2, Oldenburg Academy 0 – 25-20, 25-13