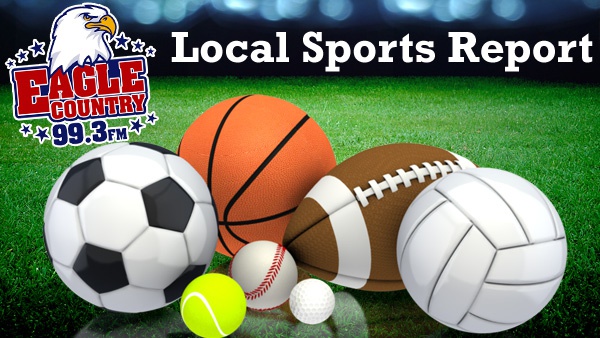 The East Central Trojans captured their 19th sectional championship in football on Friday, advancing to the IHSAA state tournament regionals.
Please report missing scores and statistics to 888-537-9724 or email sports -at- eaglecountryonline.com.
FRIDAY, NOVEMBER 2
FOOTBALL
IHSAA 4A Sectional 23 Championship
East Central 57, Edgewood 22 – Eagle Country 99.3 Feature Game – The East Central Trojans claimed their fourth straight sectional championship on the road in Ellettsville on Friday. It is the 19th sectional title in football in program history. Senior QB Alex Maxwell was 8-of-14 passing for 139 yards and a touchdown pass to Trevor Becker. Maxwell also ran for 131 yards and three touchdowns. Eric Rosemeyer tallied 128 rush yards with two scores. On defense, Devon Donawerth returned with an interception and a fumble recovery. Evan Greiwe led with 6 tackles. Brett Fox, Nathan Griffin and Gage Ertel each had a sack. EC (12-1) advances to the 4A Regional against Evansville Central (11-1) in St. Leon on Saturday, November 10 at 3:00 p.m.
4th year in a row... no big deal 😝🏆 Shoutout to everyone that came out tonight! The first round of regionals will be Saturday (11/10) at 3 pm vs. Evansville Central! The theme will be announced soon!! ❤️🏈#SECTIONALCHAMPS pic.twitter.com/sJBJ3d1oYe

— ECHS STUDENT SECTION (@ECstudentsec) November 3, 2018
IHSAA 3A Sectional 31 Championship
Brownstown Central 35, Batesville 28 – Batesville's late comeback bid came up short. The Bulldogs season ends with a 9-3 record.
GIRLS BASKETBALL
Franklin County 56, Rising Sun 33
Batesville 60, Hauser 29 – Carlie Werner put up 18 points and 6 rebounds for the Bulldogs. Hattie Westerfeld blocked 5 shots and scored 10. Ellie Waechter had 15 points.
Greensburg 61, Jac-Cen-Del 37
Union County 46, Milan 32
SATURDAY, NOVEMBER 3
GIRLS BASKETBALL
Heritage Christian 34, East Central 26 – Brilan McCory and Kyla Maxwell each scored 7 points for EC. Logan Cox had 13 boards and 4 points.
Lawrenceburg 57, Batesville 49 – Juliana Kemper kept Lawrenceburg ahead with 15 points, 7 rebounds, 4 assists, 3 steals, and 2 blocks. Macey Radenheimer added 13 points and Justice Chambers added 11.
Henryville Tournament
South Ripley 54, West Washington 46
Austin 43, South Ripley 37
Oldenburg Academy 46, Tri-Central 44
Morristown 48, Oldenburg Academy 40