Brady Linkel pitched a perfect game for South Ripley on Wednesday, the team's second consecutive perfect game. Find local varsity sports scores with one click, presented by Beacon Orthopaedics & Sports Medicine.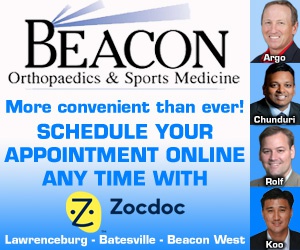 Please report missing scores to 888-537-9724 or email sports -at- eaglecountryonline.com.
BASEBALL
South Dearborn 6, Rising Sun 5 – South Dearborn's Kane Curry, Adam Rose, Kasey McCabe, Brady Fentress, Derek Williams, Nate Klayer, Tyler Morehead and Ethan Reinholt were all honored before the Senior Night game. Curry came up with the game-winning RBI hit in the 9th inning. Rising Sun freshman Landon Cole had 2 RBI while Brent Turner added another for the Shiners.
South Ripley 19, Milan 0 – Brady Linkel pitched a perfect game for the Raiders, the team's second consecutive perfect game. South Ripley collected 15 hits in the runaway win. Jackson Cornett set a new school record with 32 stolen bases.
Providence 11, Switzerland County 1
SOFTBALL
Madison 13, Lawrenceburg 8
Milan 17, South Ripley 2 – Milan's offensive onslaught was led by Lexi Wert, who went 2-for-3 with a home run, 3 RBI, and 3 runs. Taylor Amberger added 3 RBI of her own on 2-for-3 hitting with a double. Jordan Healy, Courtney Bruns, Alexa Burton each had a pair of RBI. Indians pitcher Erin Widener got the win, going 5.0 innings with 4 strikeouts and just 6 hits and a walk allowed.
Jac-Cen-Del 20, South Decatur 4 – JCD's Morgen Carroll smacked a three-run homer while teammate Emily Adams had a two-run jack.