Franklin County baseball claimed the 2018 EIAC Championship on Friday. Find local varsity sports scores with one click, presented by Beacon Orthopaedics & Sports Medicine.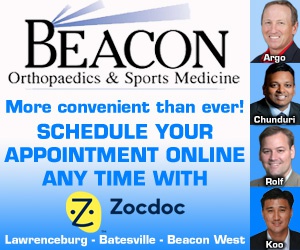 Please report missing scores to 888-537-9724 or email sports -at- eaglecountryonline.com.
FRIDAY, MAY 18
BASEBALL
Franklin County 7, Rushville 6 – Augustus Runyon plated the game-winning RBI as Franklin County claimed the 2018 EIAC Championship.
GIRLS TENNIS
IHSAA Sectional 57 at South Dearborn – Semi-Finals
Oldenburg Academy 5, Milan 0
Batesville 5, East Central 0
IHSAA Sectional 12 at Connersville – Championship
Franklin County 5, Connersville 0 – Franklin County claimed its third consecutive sectional crown. #1 Singles Lilli Stewart (FC) beat Rylee Fuller (C) 6-1, 6-1. #2 Singles Megan Routh (FC) beat Shaina Laughlin (C) 6-2, 6-3. #3 Singles Lauren Klei (FC) beat Juliette Collins (C) 6-2, 6-1. #1 Doubles Grace Moster and Allie Routh (FC) beat Cheyenne Harmeyer and Morgan Hauger (C) 6-1, 6-0. #2 Doubles Maggie Brack and Taylor McCreary (FC) beat Hanelle Burch and Kelsey Smith (C) 6-1, 6-1.
SOFTBALL
Lawrenceburg 8, Jac-Cen-Del 6 – Jac-Cen-Del's Morgen Carroll went 2-for-3 with 2 RBI.
Batesville 10, North Decatur 8 – Kate Burkhart and Ellie Waechter each collected 3 hits and 3 RBI for Batesville.
SATURDAY, MAY 19
BASEBALL
Greyhound Invitational
South Dearborn 6, Michigan City 5 - Ethan Getz, Brady Fentress and Trey Thies all had a multi-hit game as the Knights defeated Michigan City 6-5 in a rain-soaked first game of the Greyhound Invitational in Carmel.
South Dearborn 9, Chesterton 0 - The Knights put together one of the best games of the season to stun the 4A powerhouse Chesterton Trojans 9-0 in the second game of the Carmel Greyhound Invitational. Adam Dixon set the tone early for SD, pitching 3 innings and only allowing 2 hits, no walks, and 3 strikeouts. Dixon would earn the win and also added 2 singles and 2 RBI's. Brady Fentress had 3 hits, including a double. Trey Thies and Grant McLane also had 2 hits and and RBI each.
South Ripley 5, Lawrenceburg 4
Jac-Cen-Del 8, Waldron 3 – TJ Menchhofer and Connor Toops each tallied a pair of RBI for Jac-Cen-Del. JCD starter James Buford went 6.0 innings with 4 strikeouts, 3 walks, 7 hits, and 2 earned runs allowed to get the win.
Rushville 12, Oldenburg Academy 1
Rushville 6, Oldenburg Academy 2
BOYS GOLF
Southwestern (Hanover) turned in a team score of 325 to beat out second-place Milan's 371 for the 2018 Ohio River Valley Conference Boys Golf Championship on Saturday. Rising Sun was third with a 388. Southwestern's Hunter Mefford was the conference meet medalist with a round of 71. Switzerland County's Tyler Konkle shot an 88. Rising Sun's Sam Markland and Brent Turner each had an 89.
ORVC Boys Golf Tournament

Top 12 All Conference Team@orvcsports pic.twitter.com/LYeMT7g3xf

— Rising Sun Shiners (@rsshiners) May 20, 2018
GIRLS TENNIS
IHSAA Sectional 57 at South Dearborn – Championship
Oldenburg Academy 3, Batesville 2
SOFTBALL
Jennings County 4, East Central 2
Mount Vernon Invitational
Mt. Vernon 30, Rising Sun 3
Rising Sun 13, Elwood 12 – Sydney Pitts went 4-for-5 with 4 RBI and a run. Kassidy Romans was 2-for-6 with 4 RBI and 2 runs scored.