Batesville won the EIAC boys golf team championship Saturday, but South Dearborn's Drew Miller proved to be the best golf player in the conference. Find local varsity sports scores with one click, presented by Beacon Orthopaedics & Sports Medicine.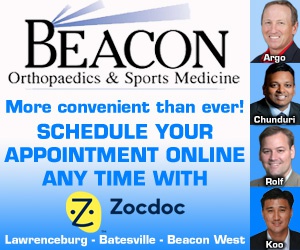 Please report missing scores to 888-537-9724 or email sports -at- eaglecountryonline.com.
FRIDAY, MAY 11
BASEBALL
Lawrenceburg 12, Oldenburg Academy 1
Rising Sun 10, Shawe Memorial 0
Milan 12, Jac-Cen-Del 2
South Ripley 8, Southwestern 1 – The Raiders' Avery Halcomb was masterful on the mound, going all 7.0 innings with 4 hits, no walks, no earned runs allowed with 4 strikeouts.
SOFTBALL
Rising Sun 24, Shawe Memorial 4 – Sydney Pitts was a one-girl wrecking crew for Rising Sun. She pitched 4.0 innings with 8 Ks, 1 hit, 1 walk, and no earned runs allowed. She also collected 3 hits, including a homer, in tallying 3 RBIs. Sydney Bostic was 2-for-3 with a double, triple, and 5 RBI. Lucy Phelps and Lindsay Montgomery posted 3 RBI each.
Jac-Cen-Del 5, Milan 0 – JCD's Morgen Carroll pitched a perfect game, going 7.0 innings with 12 strikeouts. Emily Adams led the Eagles' offense with a double 2 RBI, and a run scored. Baylee Dwenger and Shelby Gorth each had 2 hits and an RBI.
Southwestern 12, South Ripley 3
SATURDAY, MAY 12
BASEBALL
Batesville 19, Jac-Cen-Del 7 – Kyle Siefert and Calvin Sherwood each knocked in 3 runs for Batesville. Trey Peters, Shane Meer and Trey Heidlage combined to strike out 13 Jac-Cen-Del hitters. Connor Toops led JCD with 2 RBI while T.J. Menchhofer had 2 doubles with an RBI and 2 runs scored.
Southwestern 8, Switzerland County 7
BOYS GOLF
The Batesville Bulldogs claimed the Eastern Indiana Athletic Conference Championship in boys golf on Saturday. The Bulldogs 354 strokes as a team was one better than South Dearborn's 355. South Dearborn did have the conference meet medalist in Drew Miller, who shot an 18-hole round of 74. Batesville's Ross Harmeyer was the next-best golf player in the EIAC with a round of 80.
Batesville's 354 edges the field by the narrowest of margins, and the Bulldogs are your 2018 EIAC Champions. Harmeyer and Lamppert earn All-Conference honors. pic.twitter.com/VTIdBo9BqZ

— Batesville Golf (@BHSBulldogGolf) May 12, 2018
SOFTBALL
Greenfield Central Invitational
Seymour 7, Franklin County 2
Franklin County 6, Mt. Vernon 5
Franklin County 10, Milan 9
Greenfield Central 17, Milan 3
Greensburg 15, Milan 6 – Taylor Amberger tallied 2 hits and 2 RBI for Milan.
Jac-Cen-Del 14, Southwestern (Shelbyville) 8 – Morgen Carroll starred with the bat, going 4-for-4 with 4 RBI and 3 runs scored. Karlee Wolfe and Regan Carroll each had a pair of hits and a pair of RBIs.
Jac-Cen-Del 7, Southwestern (Shelbyville) 3 – Emily Adams had 3 hits and 2 RBI. JCD pitcher Morgan Carroll went 7.0 innings with 15 Ks, 4 hits, and no walks.