The East Central boys and girls track & field teams both captured EIAC championships Thursday, but almost every local school had at least one event winner. Find local varsity sports scores with one click, presented by Beacon Orthopaedics & Sports Medicine.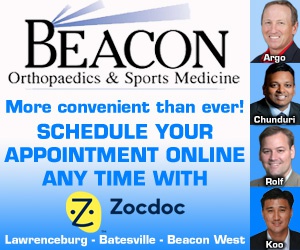 Please report missing scores to 888-537-9724 or email sports -at- eaglecountryonline.com.
BASEBALL
Greensburg 15, East Central 2
Batesville 3, Rushville 1 – Batesville starter Sam Voegele K'ed 11 and only gave up 5 hits and one earned run in 7.0 innings. Drew Kiefer had a hit and 2 RBI.
Franklin County 13, Lawrenceburg 3 – Payton Hartman, Matt Ohlhaut, and Saben Schnebelt each had an RBI for the Tigers.
South Dearborn 5, Connersville 4 – South Dearborn out-hit Connersville 11-4. Brady Fentress and Trey Thies had 3 hits apiece and Tristan Rinehart had a huge 2-run triple. Thies pitched 4 1/3 shutout innings to earn the win.
Switzerland County 4, Oldenburg Academy 3
BOYS GOLF
South Dearborn notched a win against county rival East Central at the Dearborn Country Club on Thursday, 185-193. South Dearborn was led by Drew Miller with a team-high 42 strokes, however, East Central's Kyle Leising took medalist honors with 40 shots over nine holes.
GIRLS TENNIS
Oldenburg Academy 3, Shawe Memorial 2
SOFTBALL
East Central 5, Lawrenceburg 0
Franklin County 3, South Dearborn 0
Batesville 3, Rushville 2 – Batesville's Sarah Wilson went 2-for-4 with a triple and 2 RBI. Abigail Westerfeld earned the win by pitching 5.0 scoreless innings with 4 strikeouts, 2 hits, and no walks.
TRACK & FIELD
EC Rules EIAC Championship Meet
The East Central Trojans' boys and girls track and field teams captured another Eastern Indiana Athletic Conference championship Thursday in Batesville. The EC girls ran away with 179 points, ahead of second-place Franklin County's 93 points. The Trojan boys recorded 125 points, besting Franklin County by 116.
Eva Grimm set a new EIAC meet record in winning the 200 meter dash in 25.89 seconds. She also won the 100 meter dash at 12.68. EC's other event winners included the girls 4x800 meter relay team, the girls 4x100 meter relay squad, 4x400 meter relay team, Audrey Griffin in the 200 meter hurdles at 15.85, Abigail Bittner in the 800 meter run at 2:24.15.
For the EC boys, the conference champs included the 4x800 meter relay team, 4x100 meter relay team, the 4x400 meter relay team, Nathan Griffin in the 400 meter dash at 54.57, Malachi Studer in the boys high jump at 6' 2".
Lawrenceburg's Mason Parris won the 110 meter hurdles in 15.43 and the shot put at 53 feet. Eyan Peelman was the champ in the discus at 152' 7".
Mitchell Orschell, of Franklin County, won three events: the 100 meter dash title at 11.20, the 200 meter dash at 22.73, and the long jump at 21' 3". Blake Jewel took the 300 meter hurdles in 44.31. Cody Moore won the 800 meter run in 2:02.33. FC's Grace Kruthaupt won the girls 300 meter hurdles at 53.24. Ashlan Hill claimed the long jump at 16' 11.25". Anna Shatzle won the pole vault at 10 feet.
South Dearborn's Samuel Gabbard won the 3200 meter run in 10:29.22. Eva Quinlan claimed the girls high jump at 5' 1".
Batesville's Joshua Myers won the 1600 meter run in 4:36.36.
Find full meet results at http://www.stuartroadracing.com/track/2018-5-10%20EIAC%20Results.htm.
I am so proud of this young lady!! She is the conference champ in the 100 m, 200 m, 4x100 and 4x400! To top all that... she broke the meet record AND tied the SCHOOL RECORD in the 200 m dash with a 25.89! Congratulations Eva Grimm! @ECTrojanSports pic.twitter.com/U4USSAOsLY

— Ashley Andres (@ECentralTrack) May 11, 2018
ORVC Boys Championship
Southwestern (Hanover) emerged as champions of the Ohio River Valley Conference Boys Track & Field Championship meet held at Switzerland County High School on Thursday. Southwestern had 117 points in the team standings to win the title for the first time since 1973. They were followed in the meet standings by Milan (88), Jac-Cen-Del (73), Switzerland County (65), South Ripley (59), Rising Sun (46), and Shawe (16).
Local winners included Rising Sun's Daniel Daugherty in the 110 meter hurdles at 15.99 and 300 meter hurdles at 43.52, South Ripley's Luke Welch in the 100 meter dash at 11.34, Switzerland County's 4x100 meter relay team, Switz's Dominic Klem in the 400 meter dash, Milan's Peyton Cavins in the 200 meter run at 23.08, South Ripley's Jacob Elliott in the high jump at 5' 10", and Switz's Zach Howlett in the discus at 135' 0" and the shot put at 44' 11.5".
Find full meet results at http://www.stuartroadracing.com/track/2018-5-10%20ORVC%20Boys%20Championship%20Results.htm.
Congratulations to Peyton Cavins for being the 200m Dash ORVC CHAMPION!! @Cavins_Peyton #leaveyourmark pic.twitter.com/rnCl0BH9aJ

— Milan Track & Field (@MilanTrack) May 10, 2018