South Dearborn baseball snatched a come-from-behind victory Tuesday. Find local varsity sports scores with one click, presented by Beacon Orthopaedics & Sports Medicine.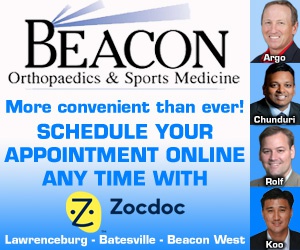 Please report missing scores to 888-537-9724 or email sports -at- eaglecountryonline.com.
BASEBALL
South Dearborn 7, Jennings County 4 – South Dearborn plated three runs in the seventh inning to tie it up, then scored thrice in the eighth to get the win. Tristan Rhinehart had a 2 RBI double. Adam Dixon had a game-tying double in the seventh. Trey Thies had a hit and an RBI. Kane Curry had an RBI double. Andy Dixon pitched four innings allowing just one run to get the win for South Dearborn.
Batesville 7, Franklin Central 3 – Quinn Werner was 2-for-3 with a home run, 2 RBI, and three runs scored for Batesville. Calvin Sherwood added a hit and 3 RBI. Batesville's Caleb Raab threw a complete game.
South Ripley 13, Crothersville 0
Switzerland County 21, Carroll County 2
GIRLS TENNIS
South Dearborn 4, Rushville 1 – South Dearborn got a hard-earned victory. SD's #1 singles player Madison Fentress defeated Barbara Hershberger 6-0, 6-3. #2 singles Sydney Yoe defeated Megann Sasher 6-8, 6-4, 10-2. #3 singles Ashley Stevenson defeated Sky Herbert 6-3, 6-4. #1 doubles Brooklyn Cromer and Emily Seward defeated Ainsley Flannery and Macy Rolfe 6-4, 0-6, 6-4.
Batesville 5, Milan 0
Oldenburg Academy 5, Brown County 0
SOFTBALL
East Central 13, South Dearborn 1
Franklin County 10, Batesville 0 – Franklin County's win streak reaches four games, thanks in large part to another great pitching performance by Kamryn McCool. She went 5.0 innings, allowing no runs, two hits, and no walks while striking out 11.
Milan 20, Shawe Memorial 0 – Milan's Erin Widener got the win on the mound, giving up just one hit with 8 strikeouts in 5.0 innings of work. Widener also had an RBI. Lexi Wert was 3-for-4 with a double, 4 RBI, and 4 runs scored.
TRACK & FIELD
The Jac-Cen-Del boys won a four-way track meet at South Ripley High School on Tuesday. JCD amassed 90 points, better than second-place Switzerland County's 52, South Ripley's 48, and Shawe Memorial's 33. The Switz girls won the girls team title with 74 points, followed by Jac-Cen-Del's 68, South Ripley's 38, and Shawe's 25.