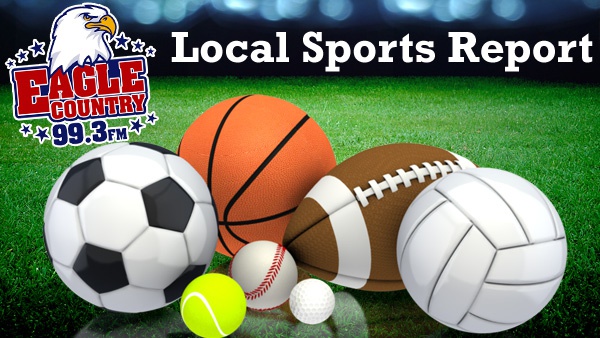 Rivertown Classic, Ripley County Tournament, and EIAC Swimming champions were crowned this past weekend.
Please report missing scores and statistics to 888-537-9724 or email sports -at- eaglecountryonline.com.
FRIDAY, JANUARY 4
BOYS BASKETBALL
East Central 54, Rushville 35
Union County 54, Franklin County 28
Oldenburg Academy 60, Shawe Memorial 29 – Jake Johnson led OA with 17 points, 5 rebounds, 2 assists, and 2 steals. Andrew Oesterling contributed with 10 points and 4 rebounds.
GIRLS BASKETBALL
Rivertown Classic
Championship – Lawrenceburg 56, South Dearborn 22 – Lawrenceburg wins the Girls Rivertown Classic for the third straight year, and fourth overall, thanks to tournament MVP Juliana Kemper's 20 points. Tristyn Dennis scored 13 for LHS. SD was led by Kyrstin Bond and Alyssa McClanahan each had 8 points.
Here are your 2019 Girls Rivertown Classic Champions!!! @LburgLadyTigers pic.twitter.com/O3cOYZyX75

— Eagle Country 99.3 (@eagle993) January 5, 2019
Consolation – Switzerland County 44, Rising Sun 31 – Switz's Aleiah Thomas led all scorers with 22 points.
2019 Girls All-Rivertown Team
MVP: Juliana Kemper (LB)
Tristyn Dennis (LB)
Kyrstin Bond (SD)
Alyssa McClanahan (SD)
Aleiah Thomas (SC)
Lindsay Montgomery (RS)

— Eagle Country 99.3 (@eagle993) January 5, 2019
Ripley County Tournament
Championship – Jac-Cen-Del 52, South Ripley 49 – Tournament MVP Mariah Day's 20-point performance led JCD to the tournament title. Page Ledford had 14 and Abigail Williams scored 10 for the Lady Eagles. South Ripley's Morgan Peetz had 19 points.
Congratulations to the Lady Eagles on their Ripley County Tourney Championship! pic.twitter.com/W2GxNdPrcH

— JCD Sports (@JCDSports) January 5, 2019
Consolation – Batesville 65, Milan 41 – Batesville's Hattie Westerfeld scored 24 points and grabbed 10 rebounds. Ashley Nobbe and Ellie Weachter each added 11 points. Danyka Groover led Rising Sun with 10 points.
Oldenburg Academy 57, Shawe Memorial 37
SATURDAY, JANUARY 5
BOYS BASKETBALL
Rivertown Classic
Championship – Rising Sun 51, Switzerland County 35 – Rivertown Classic MVP Noah Pflum guided the Shiners to their first ever Rivertown championship with 27 points. Nick Koons scored 10 for the Shiners. The Pacers were led by Dalton Tingle with 15.
@rsshiners finally win the Rivertown with a 51-35 win over @switzsc pic.twitter.com/t4vv3tWG87

— Eagle Country 99.3 (@eagle993) January 6, 2019
Consolation – South Dearborn 57, Lawrenceburg 47 – Alex Shackelford starred for South Dearborn with 26 points and 5 rebounds while Isaiah Jefferson scored 14. Lawrenceburg was led by Gavin Yoon with 19 points. Kamar Chenault scored 8 points with 15 rebounds.
All Rivertown Team
Mvp: Noah Pflum
Nick Koons
Dalton Tingle
Damien Breeck
Alex Shackelford
Gavin Yoon

— Eagle Country 99.3 (@eagle993) January 6, 2019
Ripley County Tournament
Championship - Batesville 65, Milan 48
Ripley County tournament champions! pic.twitter.com/w2Y1BG51ds

— Batesville High School (@BulldogsBville) January 6, 2019
Consolation – Jac-Cen-Del 54, South Ripley 51 – Brandon Baber and Caleb Simon each led Jac-Cen-Del with 12 points.
Villa Madonna (Ky.) 69, Oldenburg Academy 67 – Jake Johnson had 21 points, 4 rebounds, and 4 steals for Oldenburg. Teammates Zach Wegman and Dempsey Bohman added 16 and 14 points, respectively.
GIRLS BASKETBALL
East Central 39, Rushville 37 – East Central's staved off a Rushville comeback attempt thanks to 14 points from Brilan McCory. Alyssa Robben had 7 points and 7 rebounds.
Greensburg 55, Franklin County 28
Oldenburg Academy 65, Seton Catholic 34
SWIMMING & DIVING
EIAC Championships
Your Conference MVPs: Kyra Hall, Jackson Ketcham, Olivia Nixon, Jacob Weber, and Nick Weber! #MVPSweep #EIAC #AquaTrojans @ECTrojanSports pic.twitter.com/FbJLeCOe3y

— ECHS Swim Team (@ECHS_Swim) January 5, 2019
The East Central boys and the Greensburg girls were the team champs at the Eastern Indiana Athletic Conference Championship meet at South Dearborn on Saturday.
Boys team scores: East Central 384, Connersville 221, Greensburg 205, Lawrenceburg 184, Batesville 167, South Dearborn 24.
Girls team scores: Greensburg 339, East Central 303, Connersville 228, Batesville 177, Lawrenceburg 99, South Dearborn 21.
EC AquaTrojans set new EIAC records in the following events: EC Boys 200 Medley Relay (Nick Weber, Jackson Ketcham, Jacob Weber, Owen Matthew), Jacob Weber in the 200 IM, and Kyra Hall in 100 Backstroke.
East Central conference champions are as follows:
Boys 200 Medley Relay (Nick Weber, Jackson Ketcham, Jacob Weber, Owen Matthew)
Boys 200 Freestyle-Jackson Ketcham
Girls 200 IM-Kyra Hall
Boys 200 IM-Jacob Weber ***EIAC Conference Record***
Girls 50 Free-Olivia Nixon
Boys 50 Free-Nick Weber
Girls 1 meter diving-Aly Bailey
Girls 100 Butterfly-Mackenzie Schantz
Boys 100 Butterfly-Matthew Badinghaus
Girls 100 Free-Olivia Nixon
Boys 100 Free-Jacob Weber
Boys 500 Free-Jackson Ketcham
Girls 200 Freestyle Relay (Kyra Hall, Caroline Walters, Mackenzie Schantz, Olivia Nixon)
Boys 200 Freestyle Relay (Owen Matthew, Ray Krider, Matthew Badinghaus, Ethen Witte)
Girls 100 Backstroke-Kyra Hall ***EIAC Conference and School Record***
Boys 100 Backstroke-Nick Weber
Boys 400 Freestyle Relay (Jackson Ketcham, Matthew Badinghaus, Nick Weber, Jacob Weber)