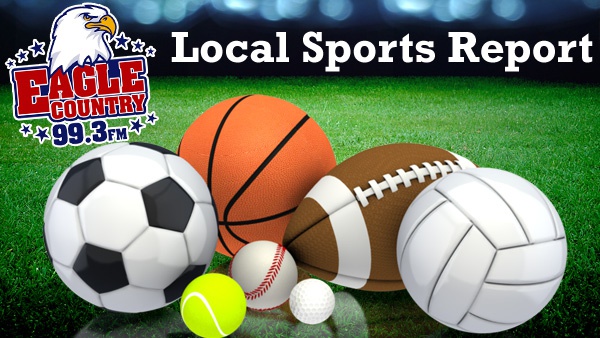 East Central football made it 23 straight wins over a tough Lawrenceburg team on Friday night.
Please report missing scores and statistics to 888-537-9724 or email sports -at- eaglecountryonline.com.
FRIDAY, AUGUST 23
FOOTBALL
East Central 30, Lawrenceburg 12 – Eagle Country 99.3 Feature Game – ECs winning streak against Lawrenceburg reached 23 straight games. East Central junior RB Jake Fike was the Skyline Chili Crosstown Showdown MVP. He racked up 175 rush yards on 16 carries, plus two rushing touchdowns. After an interception in the end zone, Devon Donawerth got a carry on offense and turned it into a touchdown. EC QB RyanBond was 6/11 for 97 yards and a TD pass to Trevor Becker. Sophie Browndyke nailed a 30 yard field goal for the Trojans. Lawrenceburg's Garrett Yoon had 201 passing yards for 2 TD and an interception, plus 83 rushing yards. Adam Burd helped with 19 carries for 63 yards and 6 catches for 43 yards. Dakota Roth had 5 receptions for 108 yards and a score.
Class act by the @LburgHigh football captains. Thank you. #WeAreEC❤️ pic.twitter.com/jPcgytbXck

— Andrew Jackson (@SDCS_SUPER) August 23, 2019
Seymour 30, South Dearborn 26
Batesville 45, Jennings County 28 – Batesville sophomore quarterback Travis Lecher had a magnificent debut with six touchdowns. He was 6/7 passing for 222 yards and 3 scores. He also ran the ball 14 times for 155 yards and 3 TDs. Austin Pohlman had 21 carries for 103 yards and a touchdown.
Franklin County 36, New Castle 20 – The Wildcats overcame 5 turnovers to get the win. Franklin County junior tailback Hunter Tschaenn had 19 carried for 167 yards and two scores. QB Brady Bogan was god, with 17 rushes for 126 yards and a TD, plus 6/13 passing for 100 yards, a touchdown and an interception. Bogan also had an interception and a fumble recovery playing defense. WR Jacob Schatzle had 2 catches for 87 yards and a score.
Milan 40, Rushville 20 – Milan quarterback Parker Lewis led the Indians to a win with 15/28 passing for 190 yards, 4 TDs, and an interception. Cole Steele had 9 carries for 32 yards and a touchdown. Carsyn Ascherman had 4 catches for 91 yards and 3 TDs. Adam Norman added 6 catches for 35 yards. Peyton Wert posted 4 catches for 51 yards and a TD. Zac Hauser was a defensive ballhawk with 3 fumble recoveries.
Staff appreciation 2019! A great night to be an Indian! pic.twitter.com/Tk02ec0NFc

— Milan Athletics (@MilanAthletics) August 24, 2019
Switzerland County 40, Crawford County 12 - Switzerland County's Damion Courter started the season strong with 6 TD's to lead the Pacers to an opening night win.
Oldenburg Academy 42, Rock Creek Academy 6 – Oldenburg's Abe Peetz had 10 carries for 77 yards and 2 TDs. Caleb Lehman had 6 rushes for 67 yards and a TD. Rhett Martin, OA's freshman QB, was ¾ passing for 46 yards, 2 TD, and an interception. Matt Sedler had 3 receptions for 46 yards and 2 TD grabs, plus he made 9 tackles on defense.
VOLLEYBALL
South Ripley 3, Jac-Cen-Del 1 - 25-18, 25-13, 23-25, 25-21
SATURDAY, AUGUST 24
BOYS SOCCER
Greenfield Central 2, East Central 0
After a well fought 0-0 first half, fell 2-0 in 2nd half to Greenfield Central. Defenders Cameron Bergman, Logan Shattuck, Jules Broekster plus many others defended the goal with everything they had. Goalie Landen Weis with 7 great saves. Boys played amazing! pic.twitter.com/Rm59AbDeD2

— EC Mens Soccer (@ECMensSoccer1) August 25, 2019
Lawrenceburg 1, Connersville 0
South Dearborn 1, Rushville 0
Batesville 11, Franklin County 0
Rising Sun 7, Trinity Lutheran 1 – Rising Sun junior Landon Cole had 3 goals to lead the Shiners. Kendall Montgomery had 2 goals and an assist. Zac Brokaw and Brogan Radcliff had a goal each.
BOYS TENNIS
East Central 4, Jennings County 1
East Central 4, Lincoln 1
Boys tennis improved to 4-1 with winning the EC Invitational today. They defeated Jennings Co 4-1 in and then Lincoln 4-1 as well. It's the 7th straight early season tournament the Trojans have won. #ECTennis #Champions @ECTrojanSports @SDCS_SUPER @S_DCSC @tblacksunmande1 pic.twitter.com/GMDgRjOiG7

— East Central Tennis (@ECTrojanTennis) August 24, 2019
CROSS COUNTRY
Richmond Hare and Hound Invitational
Oldenburg Academy's Tyler Kuntz finished 5th in the boys race while Franklin County's Lauren Kelly was third in the girls race at Richmond on Saturday. OA's boys team finished 5th in the team standings. East Central boys were 6th led by Michael Schwebach in 20th. Franklin County was 11th as a team, led by Drew Grant in 39th. Franklin County girls were 4th in the girls race team standings. Find full meet results at www.stuartroadracing.com.
GIRLS GOLF
Franklin County girls golf posted a score of 369 to win the Connersville Invitational on Saturday. Junior Gracie Graf had a score of 88 to finish in the top 5 individuals. Maggie Brack had a 90 while Ashlan Hill carded a 94 for FC. Batesville was 7th as a team and Lawrenceburg 8th.
GIRLS SOCCER
East Central 0, Beechwood (Ky.) 0
South Dearborn 3, St. Henry (Ky.) 0 – Abby Hensley scored two of SD's goals, with Erin Huber adding the third goal. Huber also had an assist. Katie Huber made an assist.
VOLLEYBALL
Southport Invitational
East Central 2, Tri-West Hendricks 1 – 18-25, 25-23, 15-11 – EC placed third at the Southport Invitational on Saturday. Alicia Rosemeyer had 9 kills, 3 digs, a block and an ace for EC. Alex Disbro recorded 11 digs and an ace. Molly Gregg added 7 kills, 3 aces, and 14 assists.
East Central 2, Indianapolis Lutheran 0 – 25-9, 25-21 – EC's Molly Gregg has 9 kills, 5 digs, and an ace. Alicia Rosemeyer added 5 kills, 4 blocks, and 2 digs.
Indianapolis Scecina Memoria 2, East Central 0 – 25-22, 25-20
New Story: Girls Varsity Volleyball beats Tri-West 2 - 1 to finish 3rd at Southport Invite https://t.co/94uXHmG0Fs

— EC Trojan Athletics (@ECTrojanSports) August 25, 2019
Shelbyville 3, Batesville 1 – 18-25, 25-14, 26-24, 25-18