Lawrenceburg trounced South Dearborn in the baseball Battle of U.S. 50. Find local varsity sports scores with one click, presented by Beacon Orthopaedics & Sports Medicine.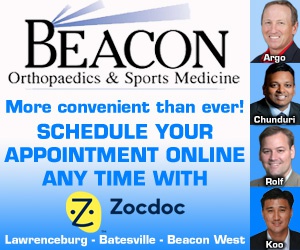 Please report missing scores to 888-537-9724 or email sports -at- eaglecountryonline.com.
BASEBALL
Batesville 11, East Central 1 – 6 innings – Batesville's Lane Oesterling pitched in dominating fashion, going 6.0 innings allowing just 4 hits while striking out 6 with no walks. Joe Bohman was 1-for-4 with 3 RBI and Caleb Raab went 1-for-3 with 3 RBI. Batesville improves to 5-0 (3-0 EIAC).
Lawrenceburg 11, South Dearborn 0 – Lawrenceburg's Dylan Shaw and Jalen Parks teamed up to pitch a two-hitter against the Tigers' U.S. 50 rival. Shaw went 4.1 innings and struck out three while giving up one walk. Parks got the final two outs. Wil Halbig was 1-for-2 with 3 RBI and a run scored. Saben Schnebelt and Eli Helton each had 2 RBI for Lawrenceburg.
Franklin County 10, Connersville 0 – Wildcats starter Matthew Billman went the distance, pitching 6.0 innings while allowing only 3 hits and no walks with 6 strikeouts. Franklin County's Alex Bischoff did well at the plate by going 2-for-3 with a double, 3 RBI and 2 runs scored.
Rising Sun 11, Southwestern 1 – 5 innings – Rising Sun's Landon Cole was 1-for-2 with 3 RBI. Stephen Jimenez was 2-for-2 with 2 RBI and a double. Shiner Brent Turner got the complete game win with 7 Ks, 2 hits, and 2 walks.
South Ripley 7, Switzerland County 5
Jac-Cen-Del 18, Shawe Memorial 1
SOFTBALL
East Central 10, Batesville 3
Franklin County 4, Lawrenceburg 3 – Kendall McCool was the winning pitcher for Franklin County going 7.0 innings with 3 runs on 9 hits, 4 strikeouts, and 1 walk. Lawrenceburg's McKenzie Meyer went 6.0 innings with a line of 4 runs, 7 hits, 5 strikeouts and a walk. Kamryn McCool and Camryn Brewer each had multiple hits for FC. Meyer, Nicole McCool and Abby Person had multiple hits for LHS.
Rising Sun 10, Southwestern 3 – Lindsay Montgomery led the Rising Sun attack by going 2-for-2 with 3 RBI and 3 runs scored. Starter Sydney Pitts recorded 9 strikeouts and allowed 2 earned runs, 6 hits, and a walk over 7.0 innings.
South Ripley 14, Switzerland County 4
Jac-Cen-Del 15, Shawe Memorial 5