Batesville's Joe Bohman pitched a no-hitter Thursday. Find local varsity sports scores with one click, presented by Beacon Orthopaedics & Sports Medicine.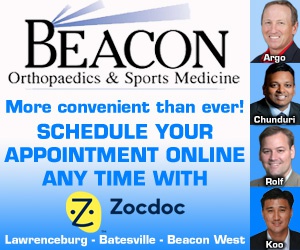 Please report missing scores to 888-537-9724 or email sports -at- eaglecountryonline.com.
BASEBALL
Greensburg 15, Lawrenceburg 13 – 8 innings
Lawrenceburg 7, Greensburg 5 – 7 innings
Franklin County 9, East Central 6
Rushville 7, South Dearborn 3 – 7 innings – South Dearborn's Brady Fentress went 1-for-2 with 2 RBI and 2 walks. Adam Dixon was 2-for-4 with a double and two runs scored.
Batesville 9, Connersville 0 – 7 innings – Pitcher Joe Bohman pitched a no-hitter with 2 Ks. Batesville's Trey Heidlage went 2-for-4 with a double, 3 RBI and 2 runs scored. Sam Voegele launched a two-run homer. Batesville is 4-0 (2-0 EIAC).
BOYS GOLF
East Central bested Lawrenceburg 198-263 on Thursday. EC's Kyle Leising was the medalist with a round of 42.
Southwestern's Hunter Mefford shot a 36 as the Rebels won a four-team match at Rising Star in Rising Sun on Thursday. The Rebels shot a 158 followed by Switzerland County at 191, Rising Sun at 199 and South Ripley at 217.
SOFTBALL
Franklin County 3, Rising Sun 0 – 7 innings – FC pounded out 12 hits against the Shiners while Kendall McCool pitched a shutout. Rising Sun's Abby Wallace was 2-for-3 at the plate.
Greensburg 17, Batesville 2
GIRLS TENNINS
Lawrenceburg 3, Madison 2
East Central 5, Milan 0