Unified sports were introduced in Indiana seven years ago. LHS' program continues to grow.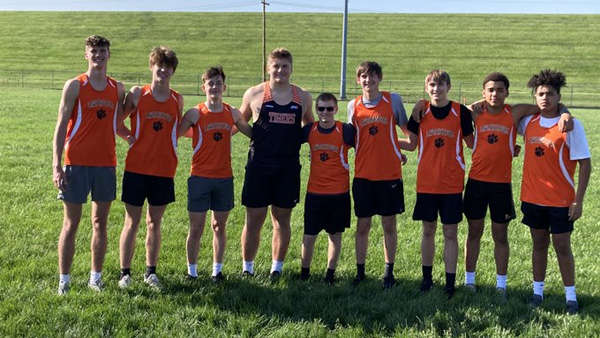 Photo via @LBurgTigerHoops.
(Lawrenceburg, Ind.) - The Unified sports program continues to grow at Lawrenceburg High School.
Unified sports, first introduced into Indiana seven years ago, are a collaborative effort that involves students with disabilities with the general education students as a unified team.
Lawrenceburg High School special education teacher Melinda Miller has coached the Champions Together Unified track team for six years. This year in particular, basketball, volleyball, football and student council students have volunteered to participate in the program, which has helped the team become more competitive in both track and bowling, according to Coach Miller.
On Monday, the Unified track team held their senior night meet. This time, it was players from the boys basketball program who volunteered to participate on the Unified track team.
In addition, Coach Henry and his track team participated by timing and measuring the events and cheering on the Unified team.
"This year, Coach Cutter supplied names of basketball athletes that he believed would enjoy joining our team," said Miller. "This helped us tremendously since other athletes heard about it and wanted to join too. The number of our team was the largest it has ever been with 17 athletes."
"I attended last night's senior night meet. It was awesome to see our basketball players interact with, compete with, and cheer on their unified teammates," said Coach Cutter. "It's definitely the neatest program we have in the athletic department in my opinion. I think it shows the character of our players and I'm proud of that."
Proud of our guys for volunteering to participate on the Unified Track Team and support our basketball manager for 3 years, Nick, in his senior season! pic.twitter.com/j5dOP5fAS6

— Lawrenceburg Boys Basketball (@LburgTigerHoops) May 9, 2022