The community involvement was nothing short of amazing.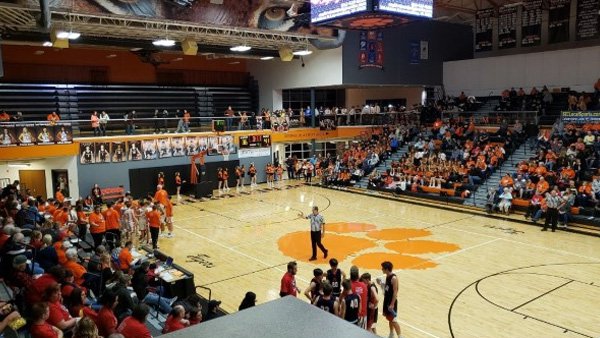 Lawrenceburg and South Dearborn fans pack the house for the boys varsity basketball Coaches vs. Cancer night. Photo by Travis Thayer, Eagle Country 99.3.
(Lawrenceburg, Ind.) - The Lawrenceburg and South Dearborn communities have a lot to be proud of.
For the last month, student, coaches, parents and anyone else who's been paying attention banded together with a goal to raise at least $10,000 to donate to the Coaches vs. Cancer initiative.
Not only was that goal met, it was well surpassed.
On Monday, organizer and Tigers head coach John Blackwell announced a fundraising total of $15,022.22.
After a final small donation by Coach B. and Nicole, @CoachesvsCancer donation will be $15,022.22. 15k seemed like a good goal once we got by 10k and the 22.22 will be to honor Ms. Lauren Hill. Thanks to everyone for coming together like we did! #beatcancer @sdknightsbball

— Lawrenceburg Tigers Basketball (@Tigers_Hoops) February 25, 2020
The total will go down as the single, largest donation from an Indiana high school basketball game.
"I want to thank a lot of people," said Blackwell. "A lot of people pitched in. It took a lot of people buying a t-shirt, coming to the dinner, coming to the game, pitching in on the GoFundMe, the alumni game. It was a lot of fun and I appreciate Lawrenceburg and South Dearborn's administration and Coach Reinhardt being on board.
There is hope that the Coaches vs. Fundraiser will happen again next season with South Dearborn playing host.
RELATED STORIES:
L'Burg, South Dearborn Near $10K Goal For Coaches Vs. Cancer
L'Burg, SD Team To Raise Funds For Coaches Vs. Cancer