Punter Drue Chrisman has signed with the Bengals as an undrafted free agent.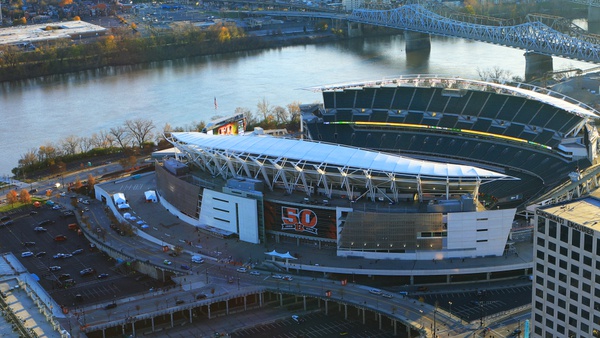 Shutterstock photo.
(Lawrenceburg, Ind.) - Drue Chrisman's football career has come full circle.
The Lawrenceburg native is coming home after signing with the Cincinnati Bengals as an undrafted free agent.
Chrisman won two state championships at LaSalle High School, and was the top punting prospect in the 2016 recruiting class, which led him to Columbus to play for the Ohio State Buckeyes.
He left Columbus as one of the best punters in program history. Chrisman's 44.0 yards per punt is good for 4th best in OSU history. He was also a three-time all-Big Ten Conference honoree, two-time semifinalist for the Ray Guy Award, and a four-time academic all-Big Ten Conference honoree.
Chrisman told Eagle Country 99.3 on Monday that signing with the hometown Bengals was a "dream come true." His full Crunch Time interview can be heard here.
"The Bengals were my top team if I didn't get drafted, so luckily that worked out and that was an option at the end," said Chrisman. "It worked out and I'm happy to be a Bengal."
Chrisman has been a lifelong Bengals fan and even recalled some fond memories of he and his dad going to "The Jungle" growing up.
"I watched them more than the Buckeyes and all that," said Chrisman. "I kind of have to pinch myself more than any other experience I've already lived through. We didn't have to go very far into the house to find Bengals gear to pick up after a signed with them. I've been a Bengal for life and it is a blessing to finally be a part of the team."
Chrisman will join a Bengals roster that includes 13-year veteran punter Kevin Huber. The longtime Bengals punter recently signed a one-year contract.
"He's certainly one of the guys I've looked up to," said Chrisman. "It's going to be great to go in there and pick his brain. He's been a hometown guy as well being from Cincinnati, see what that's been like for him. There is a lot of knowledge there on how to physically maintain that level for so long, and the mental aspect as well."
Chrisman added that he plans to compete for the starting job as a rookie, adding "if anything else, learning to manage the game like he has would be great as well."
Chrisman summed up the chance to play for his favorite team as a "blessing".
"It's kind of hard to put words into it. It's a dream come true. It's everything that a kid grows up here wishes and dreams he can do one day. It's kind of humbling in a sense that I'm actually going to have a chance to do it. I'm certainly going to give it all that I have and hopefully I can enjoy a long career here. Ohio has been good to me."
Staying home. WHO DEY!!🐅 pic.twitter.com/EEA1dI6sie

— Drue Chrisman (@DChrisman91) May 1, 2021
Congratulations Saint Lawrence School alum Drue Chrisman for making his NFL dreams come true with the Cincinnati Bengals! pic.twitter.com/KKbdnN3CVM

— StLawrenceCatholic (@SLSPanthers) May 3, 2021
Congratulations to former Lancer & @OhioStateFB Great @DChrisman91 on signing with the @Bengals after this years draft! Good luck in camp Drue! #LRD #LancersAtTheNextLevel pic.twitter.com/eGsdKPh2jS

— La Salle Football (@LS_LancerFB) May 3, 2021