New skipper Jeremy Martin has been an assistant coach for the TMU baseball team for 20 years.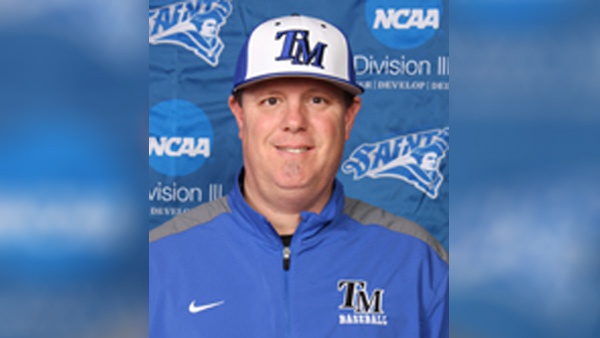 Jeremy Martin has been named the new head coach of the Thomas More University baseball team. Thomas More University photo.
(Crestview Hills, Ky.) – A former Lawrenceburg High School Tiger and University of Cincinnati Bearcat is the new head coach of Thomas More University Saints baseball.
After 20 years as an assistant coach at TMU, Jeremy Martin has been promoted to head coach of the baseball team, the university's president and athletic director announced Wednesday.
Martin is filling the position of former head coach Jeff Hetzer. Hetzer is exiting the dugout after 19 seasons to become the school's full-time associate athletic director.
"I'm extremely honored and excited on being named the head baseball coach," stated Martin. "I want to thank President Chillo, Athletic Director Terry Connor and Coach Hetzer for having the faith in me to continue the success and growth of the baseball program as the University transitions to the NAIA and the Mid-South Conference. I've had the privilege of being the head assistant and pitching coach here at Thomas More the past 20 years, working closely with Hetzer to build this program and can't wait to get started as the head coach."
Martin has been the pitching coach on the Saints baseball staff for the past 20 seasons. In that time, the Saints have had a .639 winning percentage. In his first season in 2000, he helped to guide the team to the NCAA Tournament for the first time in school history, followed by seven more tournament appearances since then.
He has coached 27 All-Presidents Athletic Conference pitchers with one being the Pitcher of the Year. Seven of his pitchers have been named All-Region with one being named Second Team All-America by d3baseball.com.
According to a TMU release, "Martin was a four-year baseball letter winner at Lawrenceburg High School in Indiana, where he also played basketball and football. After high school, he attended the University of Cincinnati where he was a four-year starter for the Bearcats and was a co-captain his senior season. While at Cincinnati, Martin earned the Jerry Strom Award, an award for hustle and determination, during his senior year. In 1994, teams of minor leaguers and ex-major league players were assembled in Cincinnati, Ohio and Cleveland, Ohio to play a best of three World Series because of the Major League Baseball (MLB) strike. Martin had the privilege to play on the Cincinnati team coached by ex-Cincinnati Red Tom Browning and pitch with Pat Zachery, a 14-game winner for the 1976 'Big Red Machine.'"
Next season in 2020, Martin's first as head coach, Thomas More University athletics will switch from NCAA Division III to NAIA. The school will also join the Mid-South Conference.
"I'm excited that Coach Martin has accepted the promotion to head coach," said TMU president Dr. Joseph L. Chillo. "Coach Martin has been on staff for 20 years and there is no individual better prepared to continue the great tradition that Jeff has built, while the program transitions to NAIA and the Mid-South Conference."