Eagle Country 99.3 will have full coverage of the Regional Championship on Saturday starting at 5:40 p.m.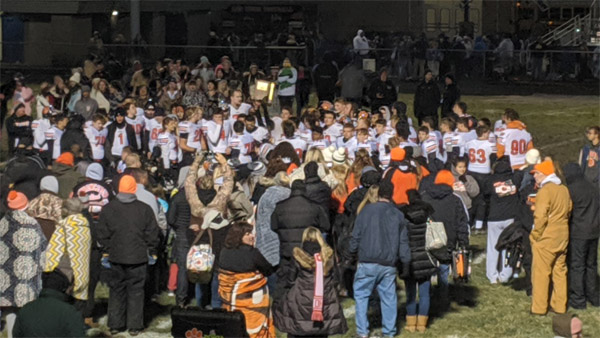 Lawrenceburg celebrates their 19th Sectional Championship in school history. Photo by Mike Perleberg, Eagle Country 99.3
(Lawrenceburg, Ind.) - The Lawrenceburg Tigers (#8 in Class 3A) are two wins away from a return to Lucas Oil Stadium in Indianapolis.
The Tigers last played in Indianapolis on September 7 when they defeated Milan 42-14 in the Southeastern Showdown. Head coach Ryan Knigga and his Tigers will take a one-game-at-a-time approach, but they hope to play a second game this season on the Indianapolis Colts field - this time around it would be for a State Championship.
Standing in the Tigers way is #2 Heritage Hills. The Patriots come to town on Saturday for a matchup of Top 10 teams in Class 3A. Kickoff is scheduled for 6:00 p.m.
"The Pit" has not played host to a game this big since the Tigers defeated Brownstown Central 41-40 in the semi-state back in 2016.
Heritage Hills boasts a perfect 12-0 record, defeating their opponents by 30 points per game. The Patriots feature a fundamentally sound offense that has only turned the ball over eight times all season.
Their top playmakers are quarterback Cole Sigler, running back Jacob Wetzel and slot Phoenix Rodgers. The trio has combined for 2,354 rushing yards and 41 touchdowns. Much like Lawrenceburg, Heritage Hills averages over 40 points per game.
Coming into Saturday's contest, the Patriots have the state's second-best scoring defense that allows just 6.67 points per game. Only North Decatur has a better scoring defense. A large reason why teams haven't been able to score against Heritage Hills, is their ability to create turnovers.
Patriot defenders have accounted for 23 interceptions and seven fumble recoveries.
The Lawrenceburg Tigers, winners of 11-straight, will counter with one of the best offenses in the state. They too defeat their opponents by a margin of 30 points per game. Led by sophomore quarterback Garrett Yoon, the Tigers do a great job of spreading the ball around to a quartet of receivers: Gavin Yoon, Dakota Roth, Seth Lampert and Dahya Patel.
Yoon has thrown for 2,243 yards and 28 touchdowns. He's also run for 959 yards and 12 touchdowns. Add that with Adam Burd's 1,685 and 23 touchdowns and the Tigers top two rushers have accounted for more yards than Heritage Hill's stars.
The Tigers also boast a much-improved defense from last season, giving up only 14.9 points per game. Lawrenceburg is led defensively by an excellent defensive line. Mason Kennedy, Daulton Dixon, Ashton Craig, Ethan Parris, Zack Bill, Jack Bradley and Brayden York are in the rotation up front.
Their play allows linebackers and leading-tacklers Andrew Rennekamp and Marshall Kinnard to play free and roam side-line to side-line.
To summarize, both teams are really good.
But something has to give on Saturday. Both offenses can score and both defenses are stingy. This game could come down to big plays, protecting the ball and maybe a little 'luck'.
The prize for winning? A trip to the Final Four.
Eagle Country 99.3's John Blackwell and Travis Thayer will have the call. Pre-game coverage starts Saturday at 5:40 p.m.