The Eagles had five all-conference selections.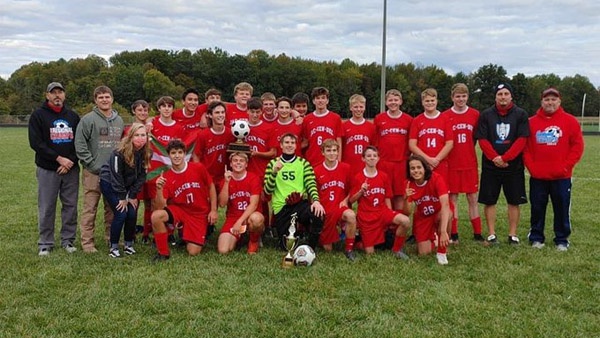 Photo by @JCDSports.
(Osgood, Ind.) - Jac-Cen-Del's boys soccer team stood atop the Ohio River Valley Conference this season.
For their effort, five Eagles were named to the 2020 ORVC Boys Soccer All-Conference Team on Monday.
They are Kameron Darnold, Jacob Jines, Jordan Meyer, Morgan Sutton, and Ryan Wilson.
Sutton also received the 2020 ORVC Mental Attitude Award, while Eagles head coach Derek Jones was named the ORVC Boys Soccer Coach of the Year.
Rising Sun was well represented on the all-conference team with three selections, including Landon Cole, Kendall Montgomery, and Jordan Parsons. Cole finished his career as the all-time leading goal scorer in school history.
Milan also had three all-conference selections, Josh Clark, Evan Miller, and Ethan Schwipps.
2020 ORVC BOYS SOCCER ALL-CONFERENCE TEAM
Dillon Binion, South Ripley
Josh Clark, Milan
Landon Cole, Rising Sun
Levi Curlin, Switzerland County
Kameron Darnold, JCD
Zach Gentile, South Ripley
Jacob Hertz, Shawe
Jacob Jines, JCD
Brady McLain, Southwestern
Jordan Meyer, JCD
Ben Miller, South Ripley
Evan Miller, Milan
Kendall Montgomery, Rising Sun
Jordan Parsons, Rising Sun
Ethan Schwipps, Milan
Morgan Sutton, JCD
Alex Webster, Southwestern
Ryan Wilson, JCD
Kaden Zellers, Southwestern