Quarterback. Assistant coach. Water boy. Jake Meiners has done it all with the East Central High School football program.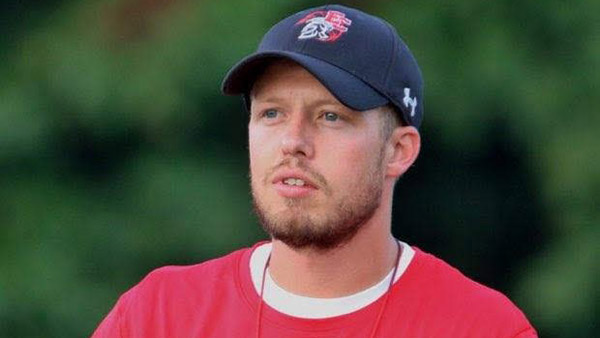 Jake Meiners is expected to be hired as the new varsity football coach at East Central High School. Photo provided.
(St. Leon, Ind.) – Ten years ago, Jake Meiners was playing quarterback for the East Central High School football team.
Now, he's the next head coach of his alma mater's powerhouse program.
East Central athletic director and current head coach Don Stonefield announced Thursday that Meiners has been recommended to the school board to be the new varsity head coach.
"I am really humbled to be selected to take this head coaching role," Meiners told Eagle Country 99.3 on Friday. "I've had several different roles here as a coach from getting water all the way up to being the assistant head coach this past year."
At 28, the Franklin College graduate is among the youngest head coaches in East Central football history.
LISTEN TO EAGLE COUNTRY 99.3'S INTERVIEW WITH JAKE MEINERS.

The school board could vote to make the hire official at their next meeting on Thursday, December 13, but that seems like a mere formality after Thursday's announcement from the school corporation's central office.
Meiners as the heir apparent to the EC head coaching gig had been widely suspected throughout the season, considering his role as associate head coach under Stonefield this past season.
"I got a lot of guys in my corner that I played for and now that I've coach with. That's an exciting experience," he said.
He spoke to the players Thursday before the public announcement.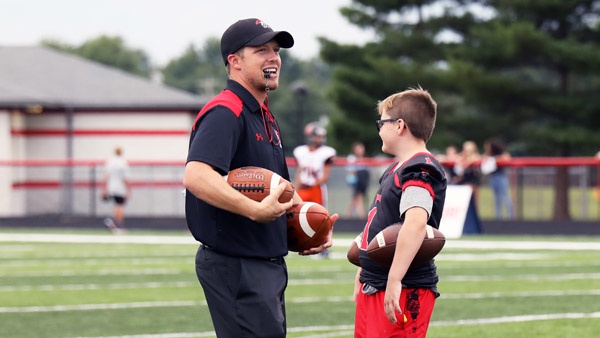 Photo by Sandy Mahoney.
Meiners graduated from East Central in 2009 after four years of playing football at the school. He has been on the coaching staff for five seasons, including the team's state championship run in 2017. Under former head coach Justin Roden, who departed following the 2017 season, Meiners served as quarterbacks coach, assistant offensive coordinator, and junior varsity head coach.
As a player, he was a two-year team captain, a two-time Eastern Indiana Athletic Conference Offensive MVP, three-time all-conference, Academic All-State and IFCA All-State.
To this day, Meiners holds the school record for highest completion percentage at 69 percent.
Meiners has been an English teacher at East Central High School since 2014. He expects to stay in that role.
"Coach Meiners is an excellent teacher and a dedicated coach. I am pleased to have a Trojan leading this program into the future," Sunman-Dearborn Community Schools Superintendent Dr. Andrew Jackson said in a news release.
Stonefield stepped in as interim head coach for the 2018 season after Roden left to become head coach at Noblesville High School this past summer. In 11 seasons as head coach, Stonefield's record includes 94 wins against just 29 losses.
RELATED STORIES:
Stonefield Will Be Trojans' Interim Head Football Coach In '18