Justin Roden says he has formally accepted the head coaching position at Noblesville High School.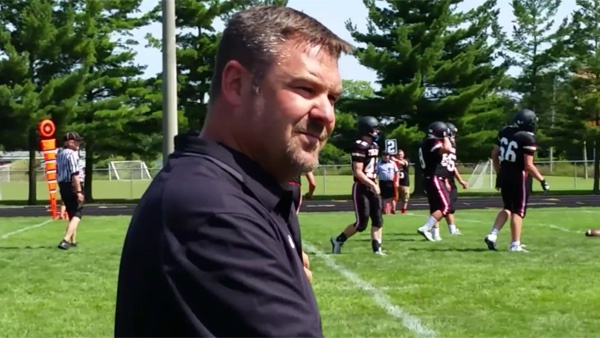 East Central High School head football coach Justin Roden. File photo.
(St. Leon, Ind.) – Justin Roden returned East Central High School's football program to state champion status last season.
Now, he's going to try to do the same thing at Noblesville High School.
Roden announced in an email to local media on Monday morning that he has formally accepted the position of head varsity football coach at Noblesville, pending school board approval on Tuesday.
"The program will be fine without me. They have been winning here for a long time and that will not change anytime soon," Roden told Eagle Country 99.3.
"My decision to leave was more about what is best for my family and my future. Leaving a program like is EC is always very difficult, but I feel comfortable that I have left it in a better position than when I began five years ago. I also would like to thank Don Stonefield, Bev Ester, the (Sunman-Dearborn Community Schools) community and all the administration at EC for their support and taking a chance on me. I will always consider myself a Trojan."
In five seasons under Roden, the Trojans went 47-20. Last November, the team captured the school's second IHSAA 4A state championship. The team was the state runner up in 4A in 2015.
Just this past weekend, Roden accepted two 2018 Griddy Awards from Indiana Football Digest. The awards were for 4A Coach of the Year and 4A Team of the Year.
"The Griddys are always fun. It is symbolically both the ending of the 2017 season and the kickoff for 2018," Roden said. "As any award I receive I give all the credit to the kids and was very humbled to accept the award on their behalf."
The Noblesville Millers are a program in the IHSAA 6A class, where the biggest schools in the state compete in the postseason tournament. Roden will replace outgoing coach Jason Simmons. The Millers, a member of the Hoosier Crossroads Conference, went 1-9 in 2017 and have not won a sectional game since 2012.
Very humbled to be recognized by the Indiana Football Digest at this years "Griddys" as the 2017 Indiana 4A Coach of the Year & to accept the 4A Team of the Year as well. pic.twitter.com/BF3DoKb2G3

— CoachRoden (@rodenjustin) April 16, 2018