The South Dearborn HS senior did something this year that no other female wrestler has done in school history.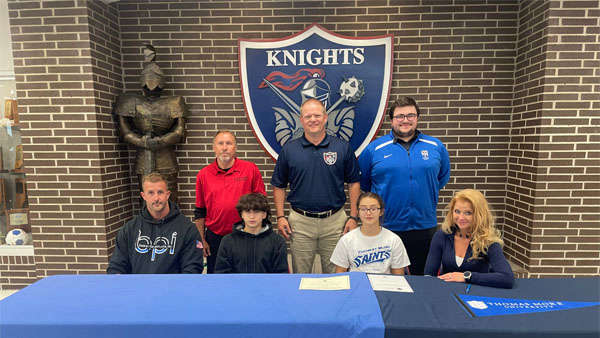 Front row (left to right): Stepfather Greg Skidmore, brother Jacob Fischer, Kaitlyn, & mother, Stephanie Skidmore. Back row: New Richmond (OH) Wrestling Coach Greg Minor, SD Wrestling Coach Chris Nobbe, and Thomas More Enrollment Counselor Kieran Casey. Photo by SD Athletics.
(Aurora, Ind.) – Kaitlyn Fischer has forever etched her name in South Dearborn athletics history.
She will always be known as the first female wrestler in school history to place at the Indiana High School State Girls Wrestling Tournament, where she placed seventh in January.
This week, Fischer had another highlight moment when she committed to continue her academic and athletic career at Thomas More University.
As a senior, Fischer wrestled at 106 lbs. Outside of her performance at the state tournament, she placed third at the IHSGW Regional, fourth at the co-ed EIAC tournament, and fifth at the co-ed sectional.
Other career highlights include finishing third in the Ohio Girls Wrestling State Tournament during her junior year at New Richmond High School.
RELATED STORIES