Dearwester is a two-time state champion.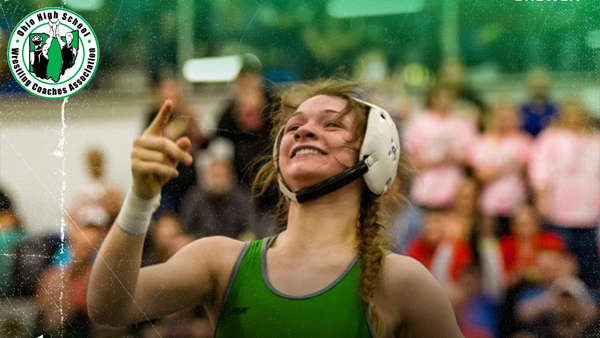 Chloe Dearwester. Photo by OHSWCA.
(Harrison, Oh.) – Harrison High School wrestling standout Chloe Dearwester has been named Outstanding Wrestler of the Year.
The OHSWCA announced Dearwester as the 2022 Toccara Montgomery Most Outstanding Wrestler of the Year on Tuesday.
The award is named after Toccara Montgomery, who won four U.S. National titles between 2001-2004 and was a member of the 2004 U.S. Olympic Team.
Dearwester, a sophomore, receives the award after winning back-to-back OHSWCA state titles. She was the 106 lb. champion in 2021, and the 105 lb. champion this past February. Harrison would go on to win the team championship as well, the first team state title in district history.
Individually, Dearwester finished the season with a record of 15-0 against all girls and 25-8 record against boys.
Harrison's coaching staff was also recognized by the OHSWCA. The 2022 OHSWCA Girls Coach of the Year award went to Harrison's Chris Baird and staff.
Baird coached two state champions, five total state placers and eight state qualifiers this season.
RELATED: Harrison Girls Wrestling Wins Team State Championship
Congratulations to Harrison's Chloe Dearwester who has been named the Toccara Montgomery Award winner for the 2022 wrestling season. The Toccara Montgomery award is given annually to the Ohio Girls Wrestler of the Year.@WrestlingHW @wildcatsofhhs pic.twitter.com/fTEXkkRF8o

— The Ohio High School Wrestling Coaches Associaton (@ohswca) March 15, 2022
Congratulations to Coach Chris Baird and his staff for being named 2022 Ohio Girls Coach of the Year. Coach Baird's award will be presented at the 2023 Girls State Tournament @WrestlingHW @wildcatsofhhs pic.twitter.com/ZZSAA8u5BE

— The Ohio High School Wrestling Coaches Associaton (@ohswca) March 15, 2022