John Collier's basketball pedigree in southeastern Indiana may never be surpassed.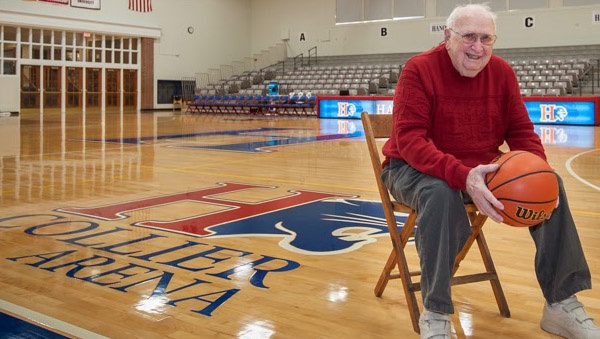 John Collier died on November 21, 2018 at the age of 92. Photo by Hanover College Athletics.
(Hanover, Ind.) – Born and raised in Guilford, John Collier went on to become the winningest coach in the history of Hanover College men's basketball and a member of the Indiana Basketball Hall of Fame.
Collier died on Wednesday, November 21. He was 92.
The Dearborn County native was the head basketball coach at Hanover College from 1966 until 1991, amassing a 388-242 record. In addition to 22 seasons as coach, he was the small college's athletic director for 25 years.
"Coach Collier was the person most responsible for establishing the basketball tradition we have enjoyed at Hanover for the last 50-plus years," said current Hanover men's basketball coach Jon Miller. "He was known and respected across the state of Indiana. So many people had either seen his teams play or attended his legendary basketball camp on campus."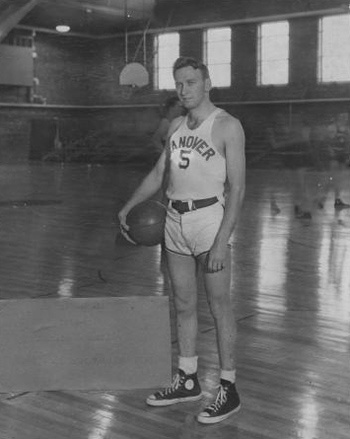 John Collier in his playing days at Hanover College.
The school recognized his contributions by naming the home basketball venue Collier Arena.
Collier was born in Guilford in central Dearborn County on March 23, 1926. He graduated from Guilford High School in 1944 after becoming the school's two-time MVP and career scoring leader.
He joined the U.S. Navy after graduation and served during World War II. He enrolled at Hanover College after being honorably discharged.
Collier easily made it onto the Panthers basketball team and started all four years of eligibility. He was the team MVP as a junior and helped the program win its first ever Hoosier Collegiate Conference championship. He graduated from college in 1951.
Then began his storied coaching career. He coached at Vevay High School for five seasons, followed by 10 seasons at Brookville High School. Collier won 255 games against just 92 losses as a high school coach.
In 1966, he was hired as men's basketball coach and an assistant professor of physical education at Hanover College.
"Coach won a lot of games, but even more importantly he created an incredible legacy with the quality of his former players," said Miller. "Many of them have shared with me that the mentorship he provided and the values he emphasized played a big role in so many of them becoming the high-quality, high-character, successful men they are today."
Collier was a hall of famer many times over. He was inducted into the Indiana Basketball Hall of Fame in 1979. He is also a member of the NAIA Hall of Fame, Hanover College Athletic Hall of Fame, and East Central High School Athletic Hall of Fame.
He was even bestowed the Sagamore of the Wabash by Indiana Governor Otis Bowen and named a Kentucky Colonel by Governor Julian Carroll.
Collier is survived by wife Dorothy Jean Matson Collier, to whom he was married for 66 years, and four sons John, Steve, David, and Pat. He also has a brother Robert. Collier is also survived by seven grandchildren and 10 great-grandchildren.
RELATED STORIES:
Hanover Coaching Legend Collier Highlights East Central Hall Of Fame Class Of 2015