The induction ceremony was held on May 10.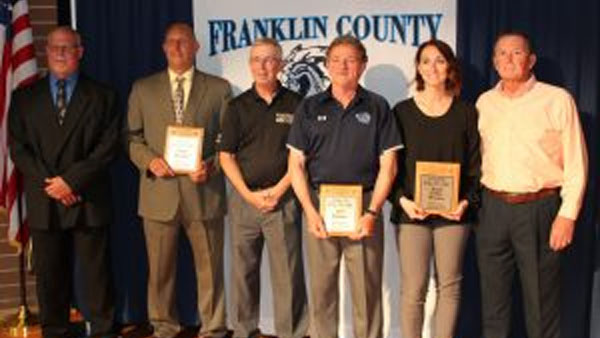 Photo courtesy Franklin County Athletics.
(Brookville, Ind.) – Kara Feller Wooley, Brian Bischoff and Jeff Siebert's names will live on forever at Franklin County High School.
All three were the most recent inductees into the Franklin County Athletic Hall of Fame on May 10.
Bischoff is one of the most decorated athletes in school history as the only individual to become an All-Star in two different sports. In 1991, Bischoff was named to the Indiana South All-Star team in both football and baseball.
Feller Wooley starred in softball, soccer and basketball. She was a member of the historic 2000-01 semi-state basketball team that went 24-1.
As for Siebert, he opened Franklin County High School as the first boys varsity basketball coach, first boys varsity tennis coach and first girls varsity tennis coach.
Between the boys and girls tennis programs, Siebert won 18 sectional titles as a head coach.