The pipeline from southeastern Indiana to northern Kentucky continues for the Saints program.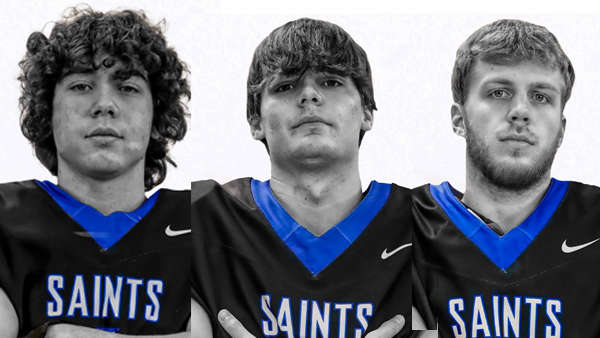 Eli Aston, Elijah Freeman, and Brady Morehead. Photos by Thomas More Football. Austin Ballart not pictured.
(Crestview Hills, Ky.) – Thomas More University's football team is continuing to tap into the southeastern Indiana pipeline.
On Wednesday, the Saints announced their 2023 recruiting class, which includes four Eastern Indiana Athletic Conference standouts.
East Central All-State wide receiver and state champion Eli Aston, South Dearborn All-State wide receiver Austin Ballart, Lawrenceburg defensive end Elijah Freeman, and Franklin County linebacker Brady Morehead were listed among the recruits that have signed their letter of intent to play at Thomas More.
As a senior, Aston led East Central with 46 receptions for 657 yards and 7 touchdowns on his way to being named to the IFCA Class 4A Senior All-State Team. He finished his high school career with 90 receptions (7th most in school history), 1,409 receiving yards (10th in school history), and 16 receiving touchdowns (T-6th most in school history).
Ballart led the Knights in receiving with 55 receptions, 853 yards and six touchdowns. He was named to the IFCA Class 3A Senior All-State Team in December.
Freeman was one of the top defensive linemen for a Lawrenceburg Tigers team that finished as the state runner-up in Class 3A. Freeman collected 37 total tackles, including six for a loss.
Morehead, who comes to Thomas More as a linebacker, had a tremendous senior season as a two-way player. He rushed for 815 yards and 6 touchdowns, and was Franklin County's fifth-leading tackler with 51.
The quartet join a short list of fellow southeastern Indiana natives that are currently on the Thomas More roster. They are Axel Bell (South Dearborn), Joseph Hibbard (Lawrenceburg) and Hunter Sohns (East Central).
RELATED STORIES
Thomas More University Set to Join NCAA Division II