Sunman-based Enhanced Telecommunications Corporation is helping to broadcast local sporting events statewide.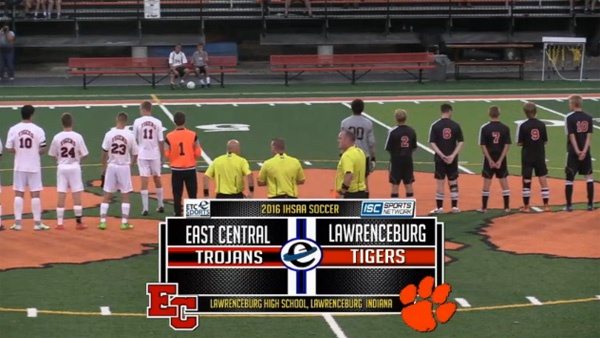 A screenshot of an ISC Sports Network broadcast of a boys soccer game between East Central and Lawrenceburg high schools. File photo.
(Sunman, Ind.) - As the new school year gets underway, that means a new season of high school sports is just around the corner. And where there are high school sports, you'll find ETC Sports and the ISC Sports Network.
While southeastern Indiana sports fans may be familiar with ETC Sports, the ISC Sports Network may be lesser known. The ISC began in 2014 as an idea between a few telecommunications companies interested in combining efforts to broadcast local high school sports across the entire state. Several years and a formal agreement later, ETC Sports in Sunman and MTC Sports out of Mulberry, turned the idea into reality, forming the ISC Sports Network. Together with the help of TV providers like Endeavor Communications out of Cloverdale, Greenfield's Nine Star, and PSC TV from St. Meinrad, the ISC brings a growing list of local sports into homes across the state.
"The ISC brings so much sporting content to our audience," says Greg Maish, President of ISC Sports Network and MTC Sports Productions.
With a dedicated sports staff, channel, and website, the ISC averages 300 live broadcasts a year and 400 views per broadcast, allowing thousands of sports fans, relatives, alumni and more to catch Indiana high school sports action—either on TV or online—when they can't watch in person.
The Indiana High School Athletic Association recognized the value of ISC's productions through a recent collaboration. According to Maish, the ISC has "partnered with the IHSAA to become a major part of their tournaments including some state finals," most recently covering the 2017-18 state finals for boys golf. ISC also has "the ability to replay all of IHSAA's sports archives on TV," Maish says.
As the popularity of the ISC has grown, so, too, has its content. The channel's coverage has expanded to include some college events from institutions such as Hanover, Marian and the University of Indianapolis, to semi-professional events like sprint car racing and soccer.
To watch local sports content on the ISC Sports Network, viewers have several options. ETC customers can watch local sports action on channel 901, where Maish notes viewers will find "live games, replays, and exclusive original content including studio-produced shows."
For customers living outside the ETC territory, games can be livestreamed at iscsportsnetwork.com, or by downloading the ISC app from your favorite app store.
"Content is organized by sports, schools, seasons and more," says Maish. "There are exclusive videos online that you cannot find anywhere else and this will only continue to grow."
Live sports broadcasts are free, including IHSAA tournament events. Subscriptions contain all current content as well as years of archived footage from the hundreds of events the ISC Sports Network has broadcasted. Recordings of past broadcasts are even available for purchase on DVD.
With its love of high school competition and growing sports content, the ISC is a must-have for sporting enthusiasts. ISC covers some of the biggest high school rivalries in the state of Indiana and so much more. There is just about something for every sports fan, Maish says.
"Being able to watch today's games or go back and watch literally thousands of hours of content should wet many fans' appetites," says Maish. "We want (the ISC Sports Network) to be in every home in Indiana."
To learn more about the ISC and ETC Sports, visit iscsportsnetwork.com.