Ringer was an IFCA All-State and IFCA Academic All-State selection in 2021.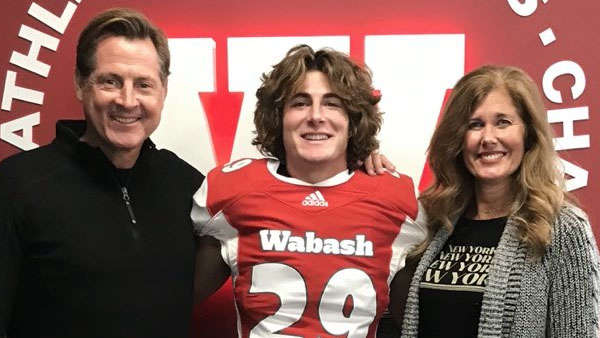 Sam Ringer commits to play football at Wabash College. Samuel Ringer (@ringer_samuel) / Twitter.
(St. Leon, Ind.) – All-State defensive back Sam Ringer has made his college decision.
The East Central Trojans' star announced Monday morning via Twitter that he will continue his academic and athletic career at Wabash College.
Those who have seen Ringer play could describe him as a "Swiss Army Knife."
Ringer played multiple positions for the Trojans throughout his high school career, including defensive back, running back, punter, and returner. He even threw six passes.
In 2021, Ringer was an IFCA 4A Senior All-State selection and EIAC 4A Division Defensive MVP. He finished the season with 47 tackles, 7 tackles for a loss, 3 interceptions and a fumble recovery.
Ringer found the end zone six times, scoring four on the ground, one on an interception, and one on an incredible kickoff return in the opening round of sectional play (see below).
Ringer's season would be cut short due to an ACL injury. However, he has rebounded nicely from surgery. Just last month, Ringer was seen on Twitter squatting 315 pounds.
In the classroom, Ringer boasts a 3.7 GPA, earning Academic All-State honors as a senior.
All in‼️‼️ @CoachOlmy @CoachRidings @WabashFB @wabashathletics @Mr_Meiners @CoachHall14 @ECTrojanSports pic.twitter.com/FCIoooHKGU

— Samuel Ringer (@ringer_samuel) April 11, 2022
still crushing previous records in the weight room. 315 for 6 only 4 months out of surgery. #IMNOTDONEYET @Mr_Meiners @CoachOlmy @CoachRidings @CoachHall14 pic.twitter.com/9aIWeJFm3V

— Samuel Ringer (@ringer_samuel) March 31, 2022
It's not everyday that I make the National news with amazing pro athletes @_bigjayy_ @ACFresh21 and win. Thanks for voting! @CBSSportsHQ @Mr_Meiners @mikeroope @_STDUB @Bryan_Ault @AllenTrieu @IndianaPreps pic.twitter.com/ZC9qcTdme3

— Samuel Ringer (@ringer_samuel) October 26, 2021