Rose-Hulman ranks as one of the top schools in the nation for engineering.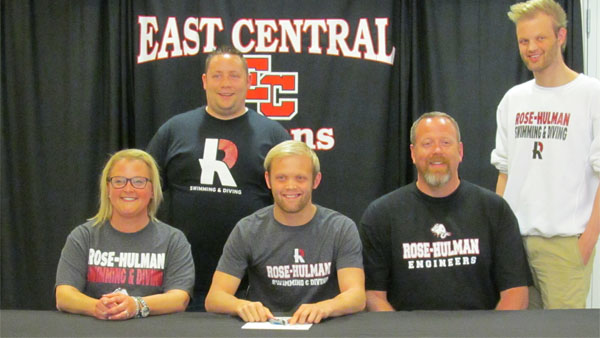 (Front Row L to R): Susan Ketcham, Alex Ketcham, Eric Ketcham. Back row: Coach Brandon Loveless, Jackson Ketcham. Photo by EC Athletics.
(St. Leon, Ind.) – An East Central High School student-athlete is set to make a "splash" at the collegiate level.
The EC Athletic Department announced Wednesday that Alex Ketcham has committed to the swimming and diving team at Rose-Hulman Institute of Technology.
Ketcham was joined at a special signing day ceremony by his parents, Eric and Susan Ketcham, his brother, Jackson, and EC swimming and diving head coach Brandon Loveless.
Aside from competing in swimming and diving, Ketcham plans to study Software Engineering at Rose-Hulman.
"Rose-Hulman is second to none when it comes to undergraduate technology institutions. Whether it be the great teachers, the small class sizes, or the amazing atmosphere, Rose-Hulman is a great place for me academically," said Ketcham. "The combination of the great academics and the strong swim team made Rose- Hulman the right fit for me."