East Central and Lawrenceburg had the two best teams in the conference this season.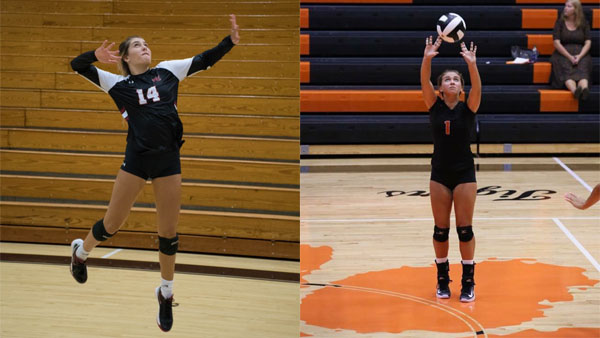 Mackenzie Ewing (left) and Grace Taylor are your 2018 EIAC Volleyball Co-MVPs.
(St. Leon, Ind.) – The best setters, spikers and servers in the EIAC have been decided by the conference's coaches.
The Eastern Indiana Athletic Conference recently announced its 2018 Volleyball All-Conference Team, Most Valuable Player and Coach of the Year.
East Central edged Lawrenceburg to win the conference championship with a 13-1 record, while the Tigers finished 12-2 in the EIAC.
Trojans' star Mackenzie Ewing and Tigers' standout Grace Taylor were named 2018 EIAC Volleyball Co-MVP.
Ewing finished the season with 550 kills, 181 digs, 40 blocks, 20 aces, 13 assists and a 79.8 serve percentage. Taylor was equally impressive with 900 assists, 238 digs, 112 kills, 76 aces, 9 blocks and an 86.4 serve percentage.
East Central head coach Cassie Laker was named the conference's Coach of the Year.
The full 2018 EIAC Volleyball All-Conference Team is listed below.
East Central (13-1) – Mackenzie Ewing (Co-MVP), Alex Disbro, Molly Gregg, Ashley Dudley
Lawrenceburg (12-2) – Grace Taylor (Co-MVP), Juliana Kemper, Cora Taylor
Greensburg (8-6) – Taylor Cooney, Anna West, Mary West
Batesville (8-6) – Kylie Laker, Jenna Ertel, Macy Prickel
Connersville (8-6) – Allison Woytik, Emily Hodson, Marley Smith
Franklin County (5-9) – Megan Getz
Rushville (2-12) – Kendra Hamilton
South Dearborn (0-14) – Jaelyn Lows