The state champion is off to Columbus.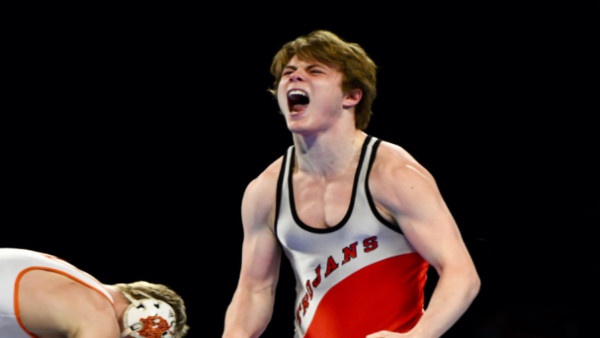 Bryer Hall, 2021 IHSAA Wrestling State Champion at 170 pounds. Photo by Punchwar Sports (@punchwar).
(St. Leon, Ind.) – Fresh off a state championship, East Central wrestling star Bryer Hall is heading to one of the top college programs in the country.
Indiana Mat reports that Bryer Hall has committed to The Ohio State University.
Congrats to state champion Bryer Hall of @ectrojanwrestle on committing to @wrestlingbucks! pic.twitter.com/fp44THAV1X

— IndianaMat🦍🤼 (@IndianaMat) April 15, 2021
Hall is coming off a magnificent high school career that was capped off with an IHSAA State Championship at 170 pounds in February. The Trojans star pinned all four of his opponents at the state championship, becoming one of nine wrestlers in state history to do so.
Hall finished the season with an undefeated record, and as the top ranked wrestler in his weight class.
He will join an Ohio State team that finished 9th at the NCAA Championships in March. He is expected to wrestle at 174 pounds.
RELATED STORIES
Bryer Hall Pins The Competition; Brings State Championship Home