Hall is one of nine wrestlers in state history to pin all four of his opponents at the State Finals.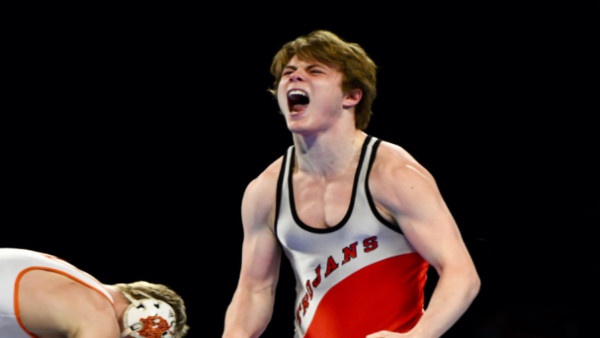 Bryer Hall, 2021 IHSAA Wrestling State Champion at 170 pounds. Photo by Punchwar Sports (@punchwar).
(Indianapolis, Ind.) - If at first you don't succeed, try again.
That is exactly what Bryer Hall did capturing the IHSAA Wrestling State Championship at Bankers Life Fieldhouse in downtown Indianapolis this past weekend.
Hall not only won the State Championship, but he did so in historic and dominating fashion, pinning each of his four opponents. He is one of nine wrestlers in state history to do so.
In the first round, Hall dispatched of Belmont freshman Duke Myers in 1:40. Hall's second round match went a little longer, as it took the EC senior 3:17 to pin Castle star John Purdy (33-2).
Hall pinned Perry Meridian's JaJuan Dale in the semifinals in just 2:25, setting up the championship match against Columbus East's Samuel Morrill. Hall pinned Morrill 58 seconds into the match to win the State Championship.
It was a sweet victory for Hall, who lost in the state championship final a year ago at 152 pounds.
Hall finishes the season with an undefeated record, and as the top ranked wrestler in his weight class.
He is the first wrestler from southeastern Indiana to win the State Championship since Mason Parris completed a three-peat in during the 2017-18 season.
February 21, 2021
CONGRATULATIONS BRYER HALL!! @IHSAA1 State Wrestling 170# CHAMPIONS!! Bryer is one of only 9 other athletes in @IHSAA1 wrestling history to pin all 4 of his opponents in state finals! WAY TO GO Bryer!! #WeAreEC

— East Central HS (@EastCentralHS) February 21, 2021
Bryer Hall: 2021 170 Pound State Champ! @IndianaMat pic.twitter.com/Cm6YIejboU

— Punchwar Sports (@punchwar) February 21, 2021