East Central's Jacob Weber and Jackson Ketcham, as well as Milan's Fernando Gomez, are state finals-bound.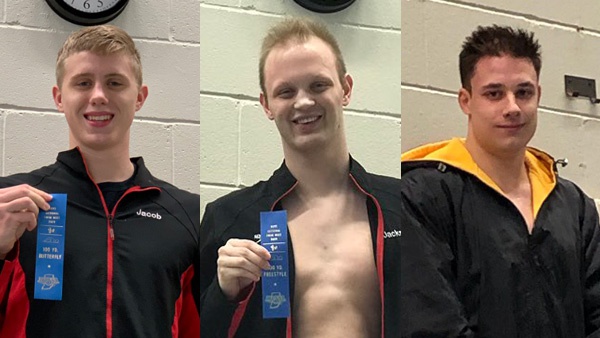 Local IHSAA Swimming & Diving State Finals qualifiers include (left to right) East Central's Jacob Weber, East Central's Jackson Ketcham, and Milan's Fernando Gomez. Photos by ECHS Swim Team, Milan Athletics.
(Columbus, Ind.) - East Central and Milan will have representation at the IHSAA Boys Swimming & Diving State Finals.
Local teams were competing at the IHSAA sectional hosted at Columbus North High School on Saturday. In order to earn a spot at the state finals, swimmers had to either win an event or meet the state time standard.
The EC AquaTrojans had two swimmers clinch spots at the state finals. Junior Jackson Ketcham won the 200 yard freestyle in 1:44.11, just a tenth of a second faster than the second place swimmer from Bloomington South High School.
Teammate Jacob Weber, a senior, will go to the state finals in the 100 yard butterfly. He won the event at sectionals with a time of 52.09.
Milan's Fernando Gomez, a senior, came in second place in the 100 yard breaststroke with a 58.57 second performance – good for a new school record. Although he didn't win, his time was good enough to meet the state time standards and secure a slot at the state finals next weekend.
Another East Central team member is advancing past the sectional round. In diving, the top four finishers in diving at each sectional move on to the diving regional. East Central's John Crawley, a sophomore, was third at the sectional with a score of 356.95 points. Crawley will compete at the IHSAA Diving Regional at Bloomington North on Tuesday, February 19.
Of the southeastern Indiana schools represented at the sectional meet East Central had the best team finish at fourth place. Milan sixth, Lawrenceburg seventh, Greensburg ninth, Batesville 10th, South Dearborn 11th.
View full results from the IHSAA Boys Swimming & Diving Sectional at http://www.ihsaa.org/dnn/Sports/Boys/Swimming/StateTournament/tabid/2202/Default.aspx#38392455-sectionals.
Can you tell why Brandon Loveless is Boys Swimming Coach of the Year again? That's one proud coach! #AquaTrojans #Sectionals #200Free pic.twitter.com/7ioZwMsqm4

— ECHS Swim Team (@ECHS_Swim) February 17, 2019
New 200 Free school record 147.95 pic.twitter.com/1BHOGsW4z3

— Milan Athletics (@MilanAthletics) February 16, 2019
400 Relay Results:
Nick Weber, Matthew Badinghaus, Jackson Ketcham, and Jacob Weber take 2nd with a NEW SCHOOL RECORD (3:15.58)#AquaTrojans #Sectional #IHSAA pic.twitter.com/DeHQ7QBXQa

— ECHS Swim Team (@ECHS_Swim) February 16, 2019