The SCAU National Senior Classic took place April 9-11 at the Lawrenceburg Event Center.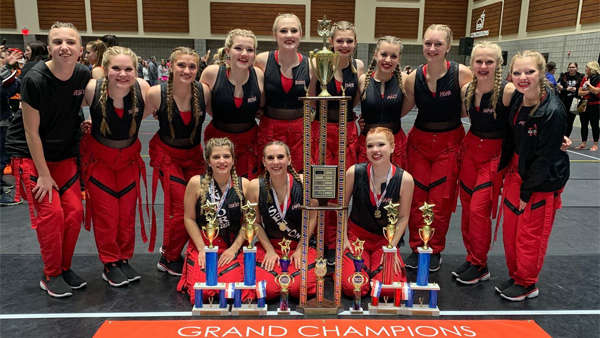 Senior Team Members (Front row): Kourtney Clark, Emma Bruner and Janie Robbins. (Second row): Wes Smith, Sarah Herzner, Olivia Rosemeyer, Nicole Isom, Hannah Laymon, Kamryn Cheek, Mary Blankman, Fiona Hines, Saydee Hofer, and Madi Newkirk. Photo provided.
(St. Leon, Ind.) - Stellar performances and sportsmanship were on display this month at the Lawrenceburg Event Center.
The East Central Senior Dance Team wrapped up their competition season April 9-11 by taking home the SCAU National Senior Classic Grand Championship for the third year in a row.
They were also awarded the Overall SCAU Sportsmanship Award for their support on and off the floor of other competing teams.
East Central High School will be the permanent home to the traveling trophy (see above) which has been retired following the event.
East Central earned the trophy by placing first in Jazz, Lyrical, and Pom categories, with their jazz routine "Rumor Has It" earning the top overall Choreography Award. Their lyrical routine "Sleep on the Floor" earned the overall top Show Design Award. The team received high marks for their Hip Hop routine (one point off of 1st place) and took home the silver medal for Best of the Best competition with the second-highest scoring Senior Classic routine.
Standouts during the individual competitions were:
Fiona Hines - 3rd in Senior Nova Division
Wes Smith - 4th in Junior Classic Division
Emma Bruner - 4th in Senior Classic Division
Kourtney Clark, Janie Robbins - Top-Level Ratings in solo competitions
East Central's Junior team had all four routines place in the top 5 for their categories and Jazz, Pom, and Hip Hop place in the top 50 percent of all routines. Their Hip Hop routine in the Best of the Best competition placed 8th.
East Central's Dance Teams will wrap up their season on May 6 with a Recital and Awards Show at 6:00 p.m. in the ECHS PAC. The event is free to attend and will feature all of the team and solo routines that were competed throughout the season.
The EC Junior and Senior Dance Teams are coached by Diane Cheek, Lisa Clark, Kalie Clark, Maddie Crow, Hayley Martin, Lindsay Schultz, and Emily Hofmann.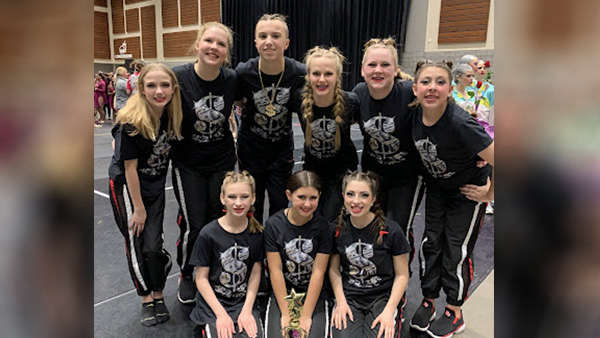 (Front row): Madelyn Reddell, Maddie Wilson, Abby Cross. (Back row): Taliana Wilson, Audrey Blomer, Wesley Smith, Saydee Hofer, Ceilia Koehler, and Ayla Fields. Photo provided.