Gutfreund participates in cross country, track & field and archery.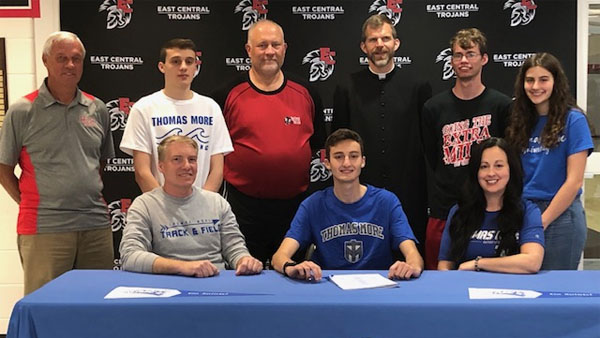 Pictured: Fred Gutfreund, Kyle, Christi Gutfreund, Coach Cotherman, Sean Gutfreund, Coach Harris, Coach Father Meyers, Coach Kameron Geison, and Emma Gutfreund. Photo by EC Athletics.
(St. Leon, Ind.) – An East Central High School student-athlete will continue his academic and athletic career close to home.
Cross country, track and field and archery standout Kyle Gutfreund recently signed his letter of intent to attend Thomas More University.
Gutfreund plans to study Computer Information Systems at TMU.