The Raiders star passed Steve Allen at the top of the list with a made 3-pointer in the first quarter of Friday night's contest against SD.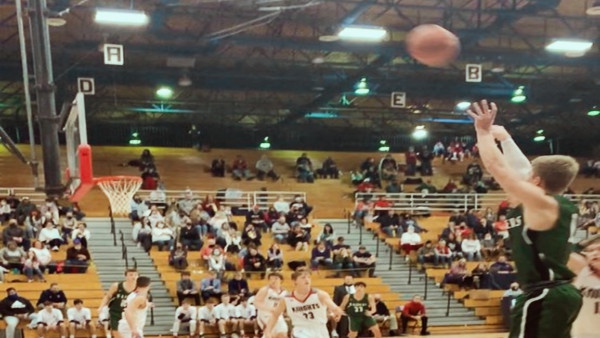 With this shot, Cody Samples broke the all-time scoring record in South Ripley boys basketball program history. Photo by Rob Moorhead.
(Aurora, Ind.) - A record that stood for 43 years has been broken.
Cody Samples became the all-time leading scorer in South Ripley boys basketball history on Friday night against South Dearborn. The Raiders senior needed just five points to pass Steve Allen on the top of the list. He did so by making his first two baskets of the contest, including with a 3-point basket that gave him the record.
The made basket gave Samples 1,288 career points, passing the record set by Allen (1,287 points) in 1978. Samples finished the game with 19 points.
The record-breaking moment was recognized by South Dearborn's PA announcer Steve Geisting, and Samples received a standing ovation from both South Ripley and South Dearborn supporters.
With four games left in the regular season, plus the postseason, Samples has an opportunity to add to his record. He currently has 1,302 career points, and is averaging 21.7 points per game this season.
With this 3-point field goal, Cody Samples becomes the all-time career leading scorer in Raider boys' basketball history, breaking the record held by Steve Allen from the class of 1978.Congrats, @Codysamples11! #RaiderPride pic.twitter.com/mm8nsgNdBt

— Rob Moorhead (@RobMoorhead01) February 13, 2021