Thirteen players make up this year's all-conference team.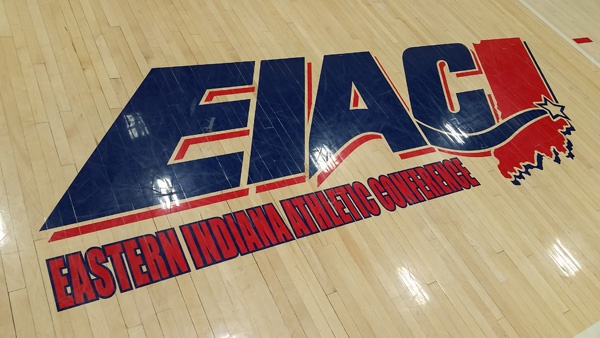 (Lawrenceburg, Ind.) – Thirteen players have been named to the 2022-23 EIAC All-Conference Team.
The list was highlighted by Co-MVPs Josh Williams and Ki Dyer.
Williams finished the season as the conference's fifth-leading scorer at 15.4 points per game. The smooth shooting guard connected on 56 percent of his shots as a senior, leading the Connersville Spartans to an EIAC Championship with a perfect 7-0 record in conference play.
Co-MVP Ki Dyer was the conference's second-leading scorer at 18.4 PPG. He led Greensburg to a sectional championship behind excellent shooting. Dyer shot 48 percent from the field, 45 percent from three and 79 percent from the free throw line. He finished his career two points shy of 1,000 points in a two point loss to Scottsburg at the regional.
South Dearborn was represented on the all-conference team by senior Ryan Willoughby and junior Brodie Teke.
Willoughby led the EIAC in scoring at 19.4 PPG. Teke was a top 10 scorer in the conference at 11.8 PPG. He had one of the more memorable games of the 2022-23 season when he made 10 three-pointers against Greensburg.
The Lawrenceburg duo of Logan Rohrer and Cooper Bobo helped the Tigers to 19 wins this season. Both were among the top scorers in the conference. Bobo, a sophomore, led that Tigers at 12.6 PPG, while Rohrer provided a spark with 12.1 points per game.
East Central's lone all-conference selection is sophomore Carson Pieczonka. He finished sixth in scoring at 14.9 PPG.
The full EIAC All-Conference Team is listed below.
2022-23 EIAC All-Conference Team (Total # of Points Accumulated in Voting)
Josh Williams - Connersville, Ki Dyer - Greensburg (81)
Cole Pride – Batesville (67)
Ryan Willoughby – South Dearborn (55)
Braxton Myers – Connersville (51)
Jeter Edwards – Greensburg (47)
Brant Ertel – Franklin County (40)
Lucas Barron – Connersville (36)
Logan Rohrer – Lawrenceburg (34)
Carson Pieczonka – East Central (33)
Cooper Bobo – Lawrenceburg (31)
Cade Kaiser – Batesville (21)
Brodie Teke – South Dearborn (21)