Dearwester won a state championship as a freshman and is nationally ranked in her weight class.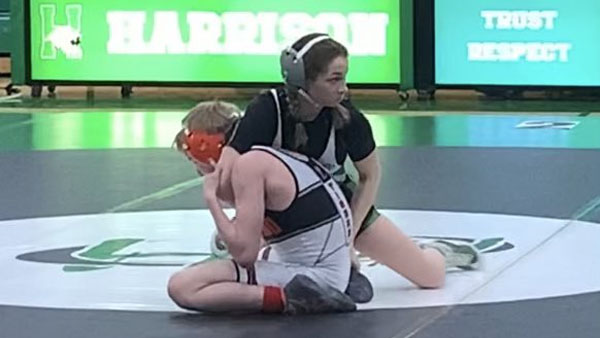 Chloe Dearwester. Photo via Harrison Girls Wrestling (@girls_harrison).
(Harrison, Oh.) – A record-setting and trailblazing wrestler from Harrison High School has earned recognition for a terrific season on the mat.
Chloe Dearwester was named the Cincinnati Female Wrestler of the Year at Wednesday's Cincinnati High School Sports Awards. The program is part of the USA Today High School Sports Awards, the largest high school sports recognition program in the country.
Meet the Cincinnati Female Wrestler of the Year - @ChloeDearwester! Congrats Chloe! 🤼‍♀️🤼‍♀️#FindYourGreatness @HDLNS @swocsports @HarrisonWildcat @girls_harrison @WrestlingHW @ENQSports @MikeDyer @mlaughman @vogel_wlwt @EnquirerShelby @ohswca @mercy_health @rmaloneyeditor @eagle993 pic.twitter.com/uDN2UWP5HL

— Harrison Wildcats AD (@wildcatsofhhs) July 1, 2021
Dearwester is certainly deserving of the honor as she went 32-1 as a freshman, winning the OHSWCA Girls State Championship at 106 pounds.
In doing so, she became the first girls wrestling state champion in Harrison High School and Cincinnati history. At the state finals, Dearwester went 4-0, winning each match by pinfall. Her total time on the mat was 3:15.
Dearwester beat out Olivia Messerly (Ryle) and Lizbeth Banderas-Rodriguez (Norwood) to win the Wrestler of the Year Award.
The announcement was made by Kyle Snyder, the youngest wrestler ever to win the World, NCAA, and Olympic championships in the same year.
Dearwester, the daughter of former All-American Rob Dearwester, could be on a path to greater things in the future. According to USA Wrestling, she ranks sixth nationally in the 106-pound weight class.
She the award announcement in the video player below around the 50:00 mark.
RELATED STORIES
Harrison Girls Finish 5th At State Championship; Dearwester State Champ At 106 Lbs.
Harrison's Dearwester Becomes First Girl To Win Varsity Wrestling Match