Luckily for Rising Sun, Bush still has his senior year to play.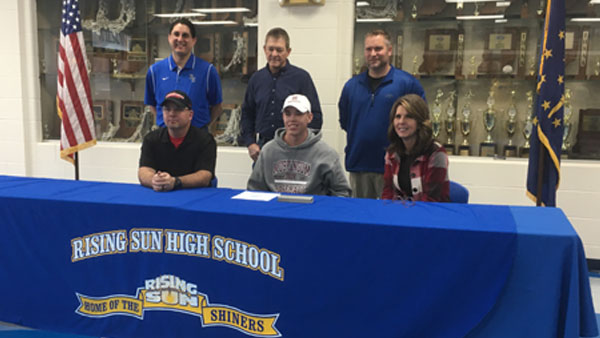 Pictured: (Front Row) Jason Bush, Brayden Bush, Leslee Bush, (Back Row) Steve Jimenez, Mark Dugan, Kevin Wirsch. Photo by Rising Sun Athletics.
(Rising Sun, Ind.) – A Rising Sun High School baseball standout is set to play at the collegiate level.
Senior pitcher Brayden Bush signed his letter of intent on Monday to continue his academic and athletic career at Muskingum University in New Concord, Ohio.
As a junior, Bush went 5-2 with a 2.08 ERA. At the plate, he hit a solid .349 with 23 runs scored and 16 RBIs.
Bush also played soccer in the fall, helping the Shiners to ORVC and sectional championships.