East Central's wrestling team sent five wrestlers to the state finals, including Bryer Hall who won the championship at 170 lbs.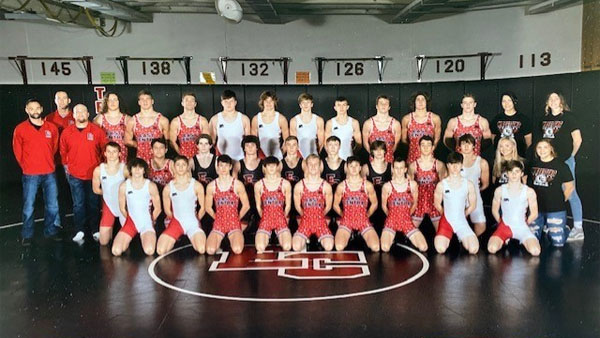 East Central's 2021 Wrestling Team. Photo provided.
In some instances, injuries keep athletes from competing. However, that is not the case with two recent Beacon Orthopaedics & Sports Medicine patients not only competing, but succeeding.
Beacon wants to congratulate East Central's entire wrestling team for its terrific showing during this year's season. We want to note senior Blake Wolf and junior David Nash for their sectional wins that led them to competing at the next level last weekend. Their determination and hard work allowed them to recover from injury to compete at the highest level – the IHSAA state championships in Indianapolis.
Dr. David Argo from Beacon Orthopaedics saw both of these athletes, along with many others throughout southeastern Indiana. "These are great young men," said Dr. Argo. "I am glad that I was able to play some role to compete healthfully back on the mat." The sport has some inherent risks, so the doctors at Beacon recommend a few tips to protect yourself.
· Train properly and at the appropriate level/duration, under the direction of a coach and a professional athletic trainer.
· Listen to your body. If you feel persistent or worsening pain, get some rest.
· Follow protocols for strength training and conditioning.
· Talk to your coach/trainer with any questions or concerns – before they become injuries.
Other ECHS team members who were previously seen by the professionals at Beacon Orthopaedics were Ben Wolf and Austin Cox. Also, Samuel Ringer who was injured during regionals earlier this month, was seen by the team at Beacon. The Beacon team feels an especially close kinship with this team as Beacon employee, Sammy Cliffe, works at the school with this entire group of young men as ECHS's athletic trainer. Even Coach Adam Wolf had knee surgery at Beacon several years ago.
Finally, Beacon also wants to congratulate IHSAA Wrestling State Champion (170 lbs) Bryer Hall from ECHS who is one of only nine wrestlers in state history to pin all four of his opponents at the State Finals. See article here. That is an achievement worth noting by all.
If you or someone you love gets injured, appointments are available at Beacon West, Lawrenceburg and Batesville, along with Saturday morning injury clinics and urgent care at Erlanger and Summit Woods.
Go to www.beaconortho.com or call 513-354-3700 for an appointment. All 13 Beacon locations are seeing patients. Striving to ensure patient and staff health, Beacon offers Telehealth Video Visits and when seeing patients in person, they are using all approved safety protocols, including temperature checks, masks, hand sanitizing. Providing a safe environment to diagnose and recommend the next steps for any injury is always the right thing to do.