Lawrenceburg (7-1) hosts South Dearborn (5-3) at 7:00 p.m. Pre-game coverage starts on Eagle Country 99.3 at 6:40.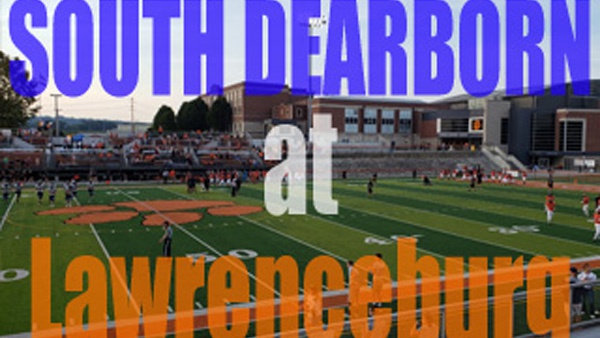 (Lawrenceburg, Ind.) – It will be a "big game" atmosphere in Lawrenceburg Friday night.
As the Indiana high school football comes to an end tonight, Lawrenceburg and South Dearborn will renew their rivalry in "The Pit." Kickoff is scheduled for 7:00 p.m.
Lawrenceburg enters the game at 7-1 and the champions of the EIAC 3A Division. The Knights march into Lawrenceburg with a 5-3 record but hold the bragging rights over the Tigers after last year's dramatic 20-14 overtime win in Aurora.
Still, Lawrenceburg has won 7 of the last 10 meetings.
This season, the Tigers boast an offense that is averaging nearly 40 points per game, and a much-improved defense that has only surrendered 16 points per game.
"Our offense has been explosive," says Knigga. "The thing they've done is managed the clock and keep our defense off the field. Our defense is much improved from last year. We have a bunch of guys over there playing really well. When your offense keeps the defense off the field, the less possessions your opponents have."
HEAR COACH KNIGGA'S FULL INTERVIEW WITH BUBBA BO IN THE AUDIO PLAYER BELOW
*An invitation was also extended to Coach Ballart
South Dearborn can score the ball as well, averaging 30 points per game. Their defense has been stingy too, giving up less than 20 points per game.
"Coach Ballert and his staff have done a great job of changing that culture," said Knigga. "They got some great players, that do some things very well for them, but It is a rivalry and its always been a rivalry. Going back to last year was a great game. They have a good team, good staff and are playing really well right now."
Who will take home bragging rights this year?
Find out tonight on Eagle Country 99.3. We have full coverage of Knights and Tigers starting at 6:40 p.m. Travis Thayer and John Blackwell will be on the call.