EC, L'burg, and SD had two selections each.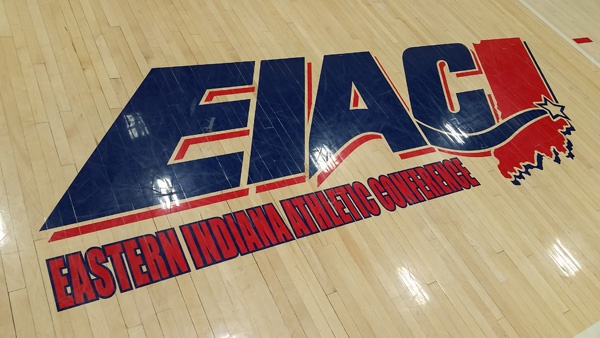 (Lawrenceburg, Ind.) – Only twelve individuals can make the EIAC Boys Basketball All-Conference Team.
All-conference selections for the 2020-21 season were released on Thursday.
No team had more than two selections, including conference champion Connersville (7-0 in EIAC).
Greensburg's Lane Sparks was named the conference MVP. The Pirates star was magnificent during his senior season, averaging 26.0 points per game.
The high-scoring duo of Logan Rohrbacher and Luke Collinsworth represented East Central on the all-conference team. The Trojans (5-2 in EIAC) finished tied for second in the conference with Greensburg.
Rohrbacher was among the top scorers in the conference at 20.7 points per game. He also impacted the game with his rebounding and playmaking ability, with 6.7 rebounds and 3.7 assists per game. Collinsworth averaged 16.4 points and 7.8 rebounds as a senior. He is the Trojans' all-time leading scorer and rebounder.
Lawrenceburg was next in the standings at 4-3 in conference play. The Tigers were led by all-conference selections Garrett Yoon and Jackson Bobo.
Yoon averaged 10.6 points, 2.3 rebounds, and 2.1 assists, while Bobo nearly averaged a double-double at 9.1 points and 8.8 rebounds per game.
South Dearborn's Reece Willoughby and Eli Hoffman also made all-conference. Hoffman averaged 17.1 points and almost 5.0 rebounds per game. Willoughby had a strong junior campaign as well, averaging 11.7 points and 5.6 rebounds.
Batesville and Franklin County had one selection each, Sam Voegele and Chad Cox.
All-Conference players and MVP were selected by the coaches.
The full 2020-21 EIAC Boys Basketball All-Conference Team is listed below.
1. MVP: Lane Sparks, Greensburg (82)
2. Logan Rohrbacher, East Central (73)
3. Tobey Billups, Connersville (64)
4. Luke Collinsworth, East Central (63)
5. Sam Voegele, Batesville (57)
6. Chad Cox, Franklin County (46)
7. Colin Comer, Greensburg (45)
8. Eli Hoffman, South Dearborn (44)
9. Jonah Graham, Connersville (34)
10. Garrett Yoon, Lawrenceburg (28)
11. Reece Willoughby, South Dearborn (20)
12. Jackson Bobo, Lawrenceburg (16)
Congratulations to @jacksonbobo3 and @GarrettYoon2 on earning EIAC All-Conference recognition. Well deserved honor for both of these young men! @LburgTigers @seilocalsports @eagle993 @newstoU pic.twitter.com/7PyNqBzou9

— Lawrenceburg Tigers Basketball (@LburgTigerHoops) March 10, 2021