The new civic park in downtown Lawrenceburg will be at the center of this family-friendly event.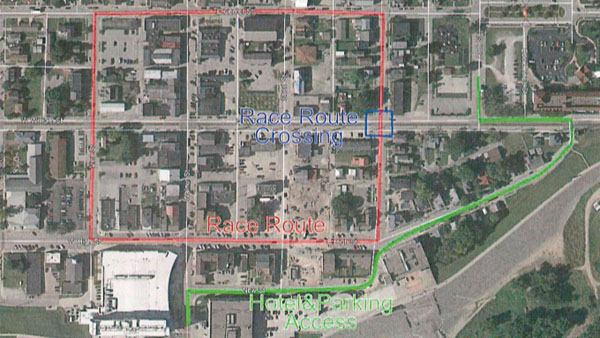 Photo via Google Maps.
(Lawrenceburg, Ind.) - The Whiskey City Challenge is returning to downtown Lawrenceburg with a new course alignment.
The family-friendly event takes place Saturday, June 20 and will feature amateur and competitive cycling, a kids race, live music, food vendors, beer garden and more.
Racing begins at noon and will continue throughout the day with the final race scheduled for 9:00 p.m. Cyclist will travel in a counter-clockwise manner indicated on the map above.
Like years prior, the event will require the following street closures:
- Center Street between Vine Street and Elm Street
- Elm Street between Center Street and High Street (NEW closure this year)
- High Street between Elm Street and Vine Street
- Vine Street between High Street and Center Street
- All streets and alleys with access to the course will be closed or blocked
Parking will be available in the parking garage, which can be accessed at the east end of High Street by using New Street (by Partners in Health) as a two-way street. On-street parking and surface parking lots will also be available outside the course.
Residential areas and businesses inside the course can be accessed by crossing over Elm Street using William Street. Police will be present to assist traffic.
For more information, visit www.thinklawrenceburg.com, City of Lawrenceburg Facebook page, or by contacting the Mayor's Office at 812-532-3552.