Two people were flown to the hospital following the crash late Saturday night in Ripley County.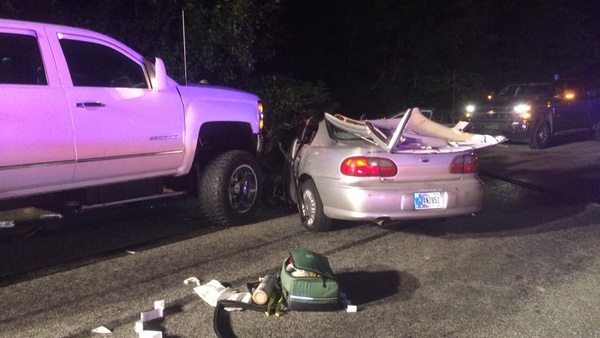 Photo courtesy of Friendship Fire Department.
(Ripley County, Ind.) – A driver's dismissal of a stop sign is being cited as the cause of a crash in Ripley County.
Ripley County emergency crews responded to the crash scene at the intersection of State Road 129 and County Road 650 South at around 10:25 p.m. on Saturday, July 7.
According to sheriff's deputies, John Taulbee Jr. of Bennington, was driving a Chevrolet pickup truck southbound on S.R. 129 when a 2003 Chevrolet Malibu driven by Christopher Wilkerson, of Liberty, came off of CR 650 S running the stop sign in front of Taulbee's truck.
Wilkerson and a passenger in Taulbee's vehicle were both flown to University of Cincinnati Medical Center by Air Care.
Other agencies on the scene included Friendship Fire Department, Ripley County EMS, Rescue 69, Holton Police Department, and Indiana Conservation Officers.