UPDATE: A student at Three Rivers Schools was injured in the Friday morning crash on U.S. 50 westbound at Cooper Avenue.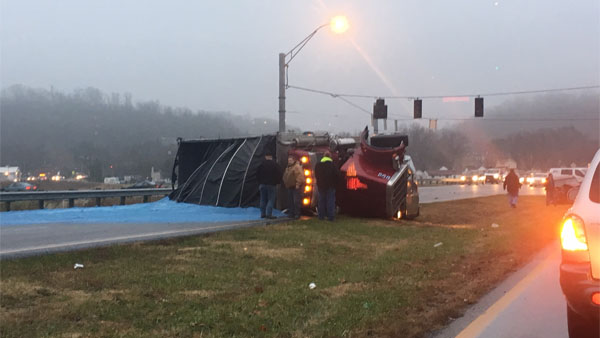 Photo submitted by Mark McCormack
Update published at 10:25:
U.S. 50 westbound has re-opened at Cooper Avenue in Cleves.
Update published at 8:55 a.m.:
U.S. 50 westbound remains closed at Cooper Avenue in Cleves after a semi truck and a passenger car collided Friday morning.
The accident involved a student at the Three Rivers schools nearby.
Miami Township Fire Department Chief Steve Ober says a teen driver of the car and a passenger of the truck were attempting to beat the traffic signal at that intersection when they collided.
The teen girl and the male driver of the truck each suffered minor injuries. The girl was taken to Cincinnati Children's Hospital.
Their names have not been released.
The truck overturned in the crash, spilling its load of salt across the highway. Cleanup of the spillage is ongoing.
Original story published at 8:12 a.m.:
(Cleves, Oh.) - A serious crash has shut down U.S. 50 westbound in Cleves Friday morning.
A semi was involved in the crash on U.S. 50 at Cooper Avenue, the main access road to the Three Rivers Educational Campus, just after 7:30 a.m. Eyewitnesses also said that the crash involved a second vehicle which was on fire.
The wreck is believed to include multiple injuries.
Listen to Eagle Country 99.3 or follow us on Twitter @eagle993 for the latest in local traffic.