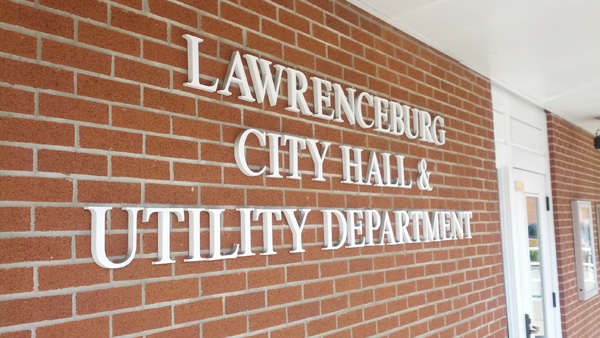 File photo
The city is refuting the claims, calling the lawsuits baseless and without merit.
(Lawrenceburg, Ind.) – Two former City of Lawrenceburg employees are suing the city because they believe they are owed tens of thousands of dollars in unpaid wages.
The city is refuting the claims, calling the lawsuits baseless and without merit.
Former mayor's assistant and redevelopment director Grant Hughes filed a lawsuit in July in Dearborn Superior Court I claiming the city breached his contract and committed unjust enrichment and promissory estoppel. He's seeking unpaid wages and unspecified damages from the City of Lawrenceburg and the Lawrenceburg Board of Works.
Hughes had joined the city in 2012 soon after former Lawrenceburg Mayor Dennis Carr's term in office began. He was fired by the administration on November 12, 2015 as the mayor's assistant job was eliminated.
In his complaint, Hughes argues that his contract entitled him to "certain compensation and the costs of certain benefits" in the event his position was eliminated. When new Mayor Kelly Mollaun's administration took control in January, Hughes was notified on January 4 that his salary and benefit payments were terminated and he received no further payments.
"Thus, the obligations under the Employment Contract that had been negotiated and agreed upon, and which should have bene paid prior to the time that Mayor Mollaun took office, were simply ignored," Hughes' complaint states.
Hughes took the step of sending the city a retirement notice in March, but says he was never provided with the severance and insurance benefits to which he was entitled under the city's collective bargaining agreement with its employees.
A copy of Hughes' contract was included as an exhibit with the complaint. It states that his salary was $85,202 annually, in addition to fringe benefits including leave and personal time, all benefits and packages available to full-time city employees, expenses, training, and use of a city vehicle.
That's not the only lawsuit the city is facing from a former employee in Carr's administration. Former Lawrenceburg marketing director Kelly Will began working for the city in 2013. She has filed a separate but similar lawsuit against the city's Board of Works in April, also seeking lost wages, benefits, and damages.
In her complaint filed in Dearborn Superior Court II, Will accuses the city of breach of contract, failure to pay wages, and unjust enrichment. Her employment contract was to automatically renew each year unless either party gave 60 days notice of an intention to terminate the agreement. Such "proper notice" was never given by the Board of Works, Will alleges. Like Hughes, she was informed by Mollaun that she was immediately terminated on January 4.
"By letter dated January 6, 2016, Mollaun indicated that he had determined that the City of Lawrenceburg should not have a Marketing Director; therefore, he proposed to the Board of Works to discontinue the Marketing Director position and they voted to do so," the seven-page complaint states.
Will's complaint says her contract with the city was to run through November 25, 2016. She is asking for an award of $74,394.62 in unpaid salary through that date, $3,175.78 in severance pay, $281.14 for longevity pay, $550 for clothing and $200 for shoes as allowed in the union contract, $4,217.14 towards her pension fund, $7,938.45 for unused paid time off, and cost of health and life insurance.
Under requested relief, Will is asking for statutory damages in the amount of three times her unpaid wages plus interest and legal fees. She demands a jury trial.
The city has filed counterclaims stating that both Hughes' and Will's complaints are "baseless, without merit, frivolous and malicious." The city also called the lawsuits harassing in nature and "a blatant attempt (to) unlawfully extort money from the (city)."
In a statement to Eagle Country 99.3 on Friday, Lawrenceburg City Attorney Del Weldon said the city is extremely confident in its position.
"The law of the State of Indiana allows the Mayor to appoint the people he believes will carry out the policies on which he was elected by the citizens of Lawrenceburg. This obviously includes the power to remove the appointments made by the outgoing Mayor. It is also important to note that Mr. Hughes was terminated by Mayor Carr before he left office, and Ms. Will's position of Marketing Manager was eliminated entirely. We appreciate the service of Mr. Hughes and Ms. Will as part of the past administration. We are very pleased with the new appointments made by Mayor Mollaun and the incredible work they have done for the city and will continue to do as we move forward," said Weldon.
Local attorney Doug Garner is representing the city in both the Will and Hughes cases. The city is asking the judge in each case to award the city damages, expenses, and attorney costs and fees.
Will's case in Dearborn Superior Court II was appointed a special judge, Michael J. Hensley of Jefferson County Superior Court, in May.