Over 450 attendees enjoyed seven camps in Ripley County.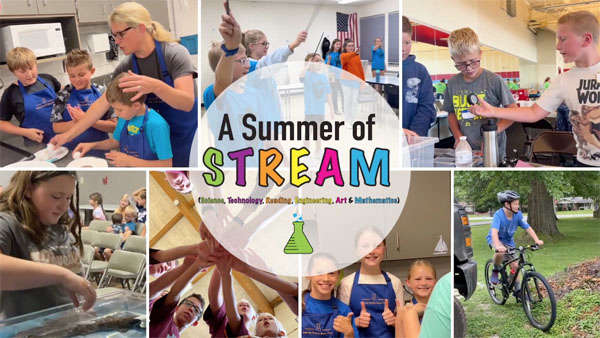 Photo provided.
(Ripley County, Ind.) - A Summer of STREAM (Science, Technology, Reading, Engineering, Art, & Mathematics), an initiative of Genesis: Pathways to Success, provided a total of 7 co-curricular and fun-filled STREAM camps and activities for students during the months of June and July. The initiative provided experiential learning opportunities that impacted 460 attendees.
"By providing a variety of creative camps and activities to appeal to various interests and passions, we are encouraging students to apply curious minds and critical-thinking skills to real-world experiences. We are sparking imaginative learning through STREAM opportunities, and through initiatives like A Summer of STREAM, Genesis has created a STREAM Ecosystem that is innovative, challenging, and fun for students," stated Clarice Patterson, Director of Genesis: Pathways to Success.
Camps and activities for A Summer of STREAM included:
Kids Building Bikes Camp: Two Kids Building Bikes Camp immersed 16 students into an experiential learning environment where they were taught about the history of bicycles, proper biking terminology, in-depth mechanics, repairs, and road safety in Nine13sports mobile bike lab. By learning these various skills, students were able to construct their very own bicycles to keep. Camps took place at Milan Wesleyan Church (Milan) and Liberty Park (Batesville).

The Science Behind Cooking Camp: A total of 22 students were able to put science skills into practice through the act of cooking and baking their own creations at The Science Behind Cooking Camp. Students created various dishes, such as pancakes, bacon, eggs, and pizza, to actively see how ingredients impacted and changed the taste or consistency of a dish. Students also recreated the Hassmer House Tavern & Inn's famous macaroni and cheese with Professional Chef David VanArtsdalen. At the conclusion of camp, students were provided Family Meal Bags, which were filled with all of the ingredients needed to recreate the recipes learned at camp at home. This camp was held at South Ripley High School (Versailles).
Stargazing with Astronomers: Led by the Boonshoft Museum of Discovery, the portable planetarium was accessed by individuals of all ages from across the region. Over 100 attendees learned about current constellations in the sky, the rotation of the earth, and the location of stars and moons in our solar system; attendees left with a free telescope to continue their space exploration at home. This summer activity was located at the Milan Public Library (Milan).

Future Ready Robotics Camp: A total of 32 students were able to acquire the knowledge of coding, creative design, and engineering concepts at Future Ready Robotics Camp. Students sat in rotations to understand the basic parts and mechanics of building a robot, which led to utilizing coding skills to practice autonomous coding and the construction of a team-built robot. These robots were put into competitions to trial the students through the VEX IQ 2022-2023 Challenge: Slapshot. This camp was held at Jac-Cen-Del High School (Osgood).

Mobile Aquatic Exhibits: Led by the Newport Aquarium's WAVE Foundation, the mobile aquatic exhibits featured Coral Cat Sharks and Yellow Stingrays. Attendees learned about each animal's survival methods, the habitat in which they live, and closely related species. Attendees were also given the opportunity to touch these non-native ocean creatures and ask questions. With over 250 individuals in attendance, these exhibits visited The Bridge of Hope Worship Center (Milan), Liberty Park (Batesville), and the Ripley County Fairgrounds (Osgood).

Camp Hogwarts: A total of 40 students who share a fascination for Harry Potter, a series of seven fictional novels, written by J.K. Rowling, who chronicles the life of a young wizard, participated in Camp Hogwarts at Oldenburg Academy (Oldenburg). At camp, students attended magical courses, related to STREAM concepts, such as Potions Class and Frog Choir Class. Students also played a recreational activity, known as Quidditch, and partook in team-building exercises through relay races.
"An amazing variety of activities were offered to our young people this summer, and I personally observed the students' engagement with those activities. The young people were challenged to broaden their horizons, expand on their personal interests, and overcome any anxiety they had about the activities. These students put their skills to work in a non-traditional environment and enjoyed success," said Nancy Durham, President of the Ripley County Community Foundation's Board of Directors.
Data collected from A Summer of STREAM confirmed that A Summer of STREAM attendees were from every socio-economic background and from various locations across Ripley County and surrounding counties: Decatur, Dearborn, Franklin, Hamilton, Jefferson, and Jennings.
Patterson further stated, "It's captivating to know that summer programming for 2022 had an outreach beyond Ripley County, and we're reaching students of all ages and socioeconomic backgrounds. A Summer of STREAM is a living testament that Genesis: Pathways to Success is an evolving and growing initiative of the Ripley County Community Foundation."
Sponsors for A Summer of STREAM included Honda Manufacturing of Indiana, Indiana Department of Education, Kids Discovery Factory, Ripley County Court Services JDAI, Dairy Queen, McDonald's (Batesville and Versailles locations), and The Reservation Restaurant.
Readers can watch a summary video of A Summer of STREAM on the Genesis website at https://genesisp2s.org/programs.
To learn more information about this year's summer programming or if you have any questions, please contact Clarice Patterson by emailing cpatterson@genesisp2s.org, calling 812-933-1098, visiting www.genesisp2s.org, or stopping by the office at 13 E. George Street, Suite B, Batesville, IN, 47006.
A Summer of STREAM will return again in the summer of 2023 with the expansion of current and new summer programming.