Transmark Logistics LLC joined other industry partners by investing in a training hub at Southeastern Career Center in Versailles.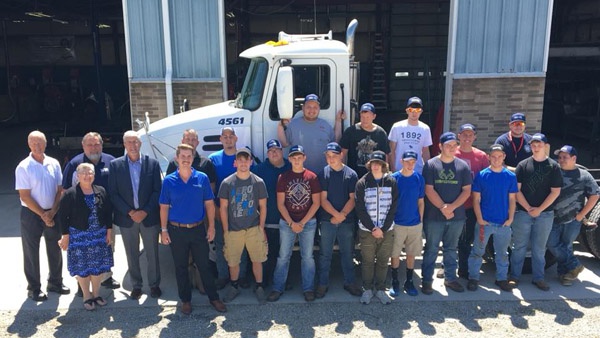 Photo provided by Southeastern Career Center
(Versailles, Ind.) - Today, Transmark Logistics LLC joined other industry partners by investing in the development of a Transportation, Distribution, and Logistics (TDL) Training Hub at Southeastern Career Center (SCC).
Transmark Logistics will donate a semi-truck from their fleet to be used by students in the TDL program.
"SCC is proud to lead and offer TDL training for our twelve sending schools," said Derek Marshall, SCC Superintendent. "We know this will lead to many successful careers for our students."
Over the last several years, the Diesel Service Technology Program at SCC has received significant grant funding and donations of supplies, equipment, and training from industries associated with the TDL industry, including Cummins, Crum Trucking, Batesville Logistics, Baylor Trucking, Rotary Lift, Grote Industries, and others who recognize the economic significance of this sector. The need for individuals with the skills and training required for employment in TDL is a growing concern in Southeastern Indiana and across the nation. The region served by SCC sees an extraordinary amount of truck traffic where goods are transported to/from distribution centers, manufacturing facilities, and grain storage facilities throughout the region. The Fourth Port of Indiana, anticipated to open within the next five years, will bring an increase in the need for individuals with training in TDL. To address the critical shortage currently existing and anticipated in the future, SCC will establish a TDL Training Hub at its Versailles location to train high school students and adults for jobs in TDL.
The TDL Training Hub is supported by members of Indiana DriveTrain, a nonprofit organization comprised of employers in the TDL industry who believe in training individuals for careers in the trucking industry.
"We are proud to be able to donate this equipment to SCC where we know it will be put to good use," commented Elvin Knollman, President of Transmark Logistics and Chairman of the Indiana DriveTrain Board of Directors. "This is our future. These students are training to be valuable members of our community and it's important we invest in them."
A growing concern among employers is the fact that current legislation prohibits individuals possessing a Commercial Drivers License (CDL) who are under the age of 21 to drive across state lines. The Drive-Safe-Act, now before Congress, addresses that concern and, if the Drive-Safe-Act is passed, will alleviate a huge burden on trucking companies.
According to Garrett Knollman, Safety & Compliance Director at Transmark Logistics, "Current legislation is particularly frustrating because an adult under the age of 21 can drive the 250 miles from Lawrenceburg, Indiana, to Gary, Indiana, but they cannot drive the 12 miles from Lawrenceburg to Hebron, Kentucky."
With the anticipated passing of this legislation, standardized training requirements and safety technology will be integrated into trucks. Through the TDL Training Hub, trainees will be prepared to take the lead in the wide variety of career opportunities in TDL including warehousing, distribution, diesel technology, and the option to earn a CDL.